---
CIC Holdings PLC recorded robust results for the three months to December 2020 (3Q21) continuing the momentum from the previous two quarters in a sign that the company' strategic redesigning exercise fits well with the country's policy direction prioritising domestic agriculture and production.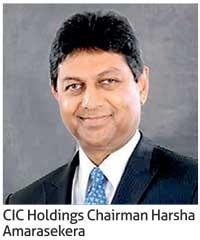 The group with established roots into agricultural produce and crop solutions among other businesses reported revenues of Rs.11.2 billion for the quarter under review, logging a healthy 21.2 percent increase from the same period in 2019.

The group's before-tax profit was Rs.1.86 billion for the three months, up 129 percent from the year earlier period.
The group's other business segments such as livestock solutions, industrial solutions and health & personal care products, were equally placed to benefit from the needs necessitated by the pandemic.CIC Holdings is one of the major suppliers of fertiliser and other crop solutions to the agricultural sector. The crop solutions business of the group is the largest by revenue and the most profitable among the rest.

The group reported earnings of Rs.12.10 a share or Rs.1.15 billion for the December quarter, compared to Rs.5.53 a share or Rs.524.4 million in the corresponding period in 2019. For the nine months ended in December 31, 2020, the group reported earnings of Rs.23.72 a share or Rs.2.25 billion on revenue of Rs.28.2 billion, each up 164 percent and 18.4 percent respectively.
The crop solutions business generated revenues of Rs.10.6 billion in the nine months, up from Rs.7.5 billion in the same period in 2019, and the operating profit was Rs.2.0 billion compared to Rs.1.2 billion in the year earlier period.

Meanwhile, the livestock solutions business, the second largest by revenue, reported revenues of Rs.6.6 billion compared to Rs.5.3 billion a year ago. This business generated an operating profit of Rs.657 million, up from Rs.105.8 million a year ago.

The health and personal care business of the group represented by Link Natural generated revenues of Rs.6.1 billion compared to Rs.5.9 billion a year ago and a profit of Rs.872.8 million compared to Rs.721.3 million.

As at December 31, 2020, Captain family-controlled Paints & General Industries Limited held 53.31 percent stake in CIC Holdings while the Employees' Provident Fund (EPF) had 9.06 percent being its second largest shareholder.

EPF also has 12.7 percent stake in the company's non-voting shares.