---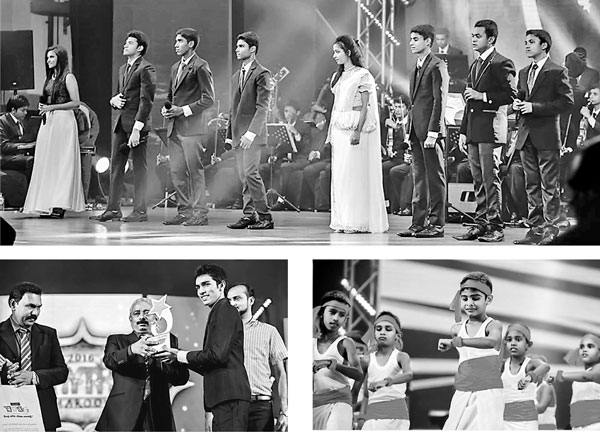 CIC Holdings' renowned stationery brand CIAL was the main sponsor of Ananda College's annual cultural highlight - 'Rhythm of the Maroons' musical extravaganza which was held on October 29th at the BMICH.

Considered to be the the premier musical school show in the country, the event featured the best of vocal and instrumental talent from the college and recorded one of the highest audience numbers for a musical show organised by a school in Sri Lanka.
Principal of Ananda College, S.M.Keerthirathna welcomed the guests.The 'CIAL Rhythm of the Maroons' was a glittering evening, graced by many prominent personalities and featured soul-stirring music by young talent.
CIAL is the preferred stationery brand for young students islandwide and the company is proud to have supported this cultural event to encourage all-round talent development of students. Cial is a trusted brand of writing instruments that has been around for many years and is manufactured using advanced British technology. The renowned brand is owned by CIC Holdings PLC.
The musicial show aims to touch the pinnacle of music by providing Ananda College's talented students a high profile platform to showcase their potential. About 300 students participated at the event.
The 'Rhythm of the Maroons' was a pop band started by a group of students from the Ananda College Music Circle, which organises the yearly event. The event's origins is rooted in interesting beginnings. Some of the founding students of 'Rhythm of the Maroons' band were Kasun Kalhara, Bathiya Jayakodi and Gaminda Priyaviraj , who are leading musicians in their own right today. Since then, the annual cultural event has showcased some outstanding talent that has gone on to do its school and country proud.

The CIAL best voice winner award was bagged by Sahana Amodya De Silva. Reputed and popular singers - Heshan Gamage,Piyath Rajapakshe and Danushka Chandimal – also entertained the audience. Delightful dance performances further heightened the excitement of the event, with students from Visakha Vidyalaya, Anula Vidyalaya and Leads International School Panadura performing at the venue. The teacher in charge of the event was K.M. Rathnapala.
CIC is a leading bluechip conglomerate in Sri Lanka with decades-long heritage. Its business portfolio extends into the areas of agri produce, health & personal care, livestock solutions, industrial solutions and crop solutions.