---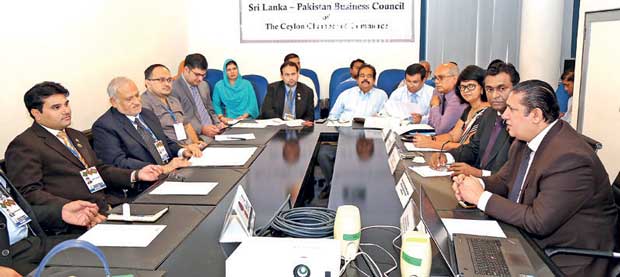 The Sri Lanka-Pakistan Business Council of the Ceylon Chamber of Commerce (CCC) hosted a delegation from the Lahore Chamber of Commerce and Industry (LCCI) recently.

The LCCI is the oldest and largest trade body in Pakistan with strong credentials, having a large membership base standing around 20,000 members. The LCCI's history dates back to the early part of the last century. The LCCI's prime objective is to serve its membership to their utmost satisfaction. It acts as a bridge between the government and internal agencies on important national and international policy matters.

In addition to its regular advisory and support services to the members, it actively promotes regional and international economic cooperation and trade. The LCCI is involved in extensive research used in nearly every discipline, formulating recommendations and analyzing various national and international policies affecting business, trade and industry.

The delegation was led by LCCI Senior Vice President Amjad Ali Jawa. It consisted of pharmaceuticals, IT and beauty sectors. The Sri Lanka-Pakistan Business Council organised a business forum.

Council President Rohitha Thilakaratne welcomed the delegation and discussed the relationship the two countries enjoy and the possible opportunities that exist.

Pakistan Acting High Commissioner Dr. Safraz Ahmed Khan Sipra addressing the delegates mentioned the importance of the business forum and the assistance the Pakistan High Commission is willing to extend.

State Pharmaceuticals Managing Director Dr. H.U.M. Rumie spoke on the topic of 'Importing laboratory items and medical devices', specially highlighting the tender procedures. Sri Lanka Sri Lanka Association for Software and Services Companies Executive Director Chrishan de Mel elaborated on 'What makes Sri Lanka a popular destination for IT/BPM services'. Sri Lanka Pharmaceuticals Manufacturers' Association President Trihan Perera discussed 'Pharmaceutical manufacturing in Sri Lanka: Overview and opportunities'.

Board of Investments of Sri Lanka Executive Director Vidharshana Fernando encouraged investment opportunities available in the interested sectors.

The business forum ended with business-to-business meetings between the members of the Sri Lanka Pakistan Business Council and delegates from the LCCI.