---
The investment bank, Capital Alliance (CAL), will be launching a Rs.4 billion private equity fund in the near future, a top company official said.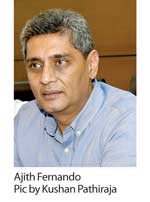 "We will be launching a private equity fund soon. It will be Rs.4 billion and some foreigners will also be investing. We feel that the time is right," CAL Group Managing Director Ajith Fernando said.
The fund would be investing in established companies that have already been through earlier funding rounds by way of seed and venture capital funding.
Private equity plays a major role in financing companies either through debt or equity investments prior to their readiness to seek public funding through a stock exchange.
Some private equity funds also engage in takeovers.
Sri Lanka's private equity ecosystem has not yet developed properly, with only a handful of private equity funds, each approximately as large as the one conceptualized by CAL, in existence.
Some of these funds have been noted to extend funding to entities owned by parties related to the fund managers.
Pension funds play a key role in private equity. However, less than 18 percent of the country's current elderly receive pensions, despite the existence of 24 unregulated pension funds.
However, most of the pensions are not paid through a managed fund, but through the state budget.
The private sector has two funds worth over 15 percent of the country's US $ 82 billion economy, which make lump sum payments upon a member exiting the labour market due to old age, death or, in the case of females, marriage.
However, the funds are only allowed to invest in government securities and certain publicly held companies.
Some foreign pension and sovereign wealth funds, as well as financing agencies and development banks have shown interest in investing in private equity in
Sri Lanka.
(CW)