---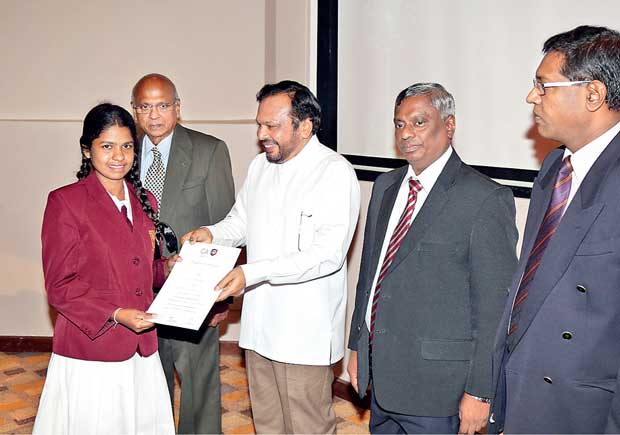 A student receives her CA Sri Lanka scholarship from Higher Education State Minister Mohan Lal Grero in the presence of CA Sri Lanka President Lasantha Wickremasinghe, CA Foundation Chairman B.R.L. Fernando and CEO Aruna Alwis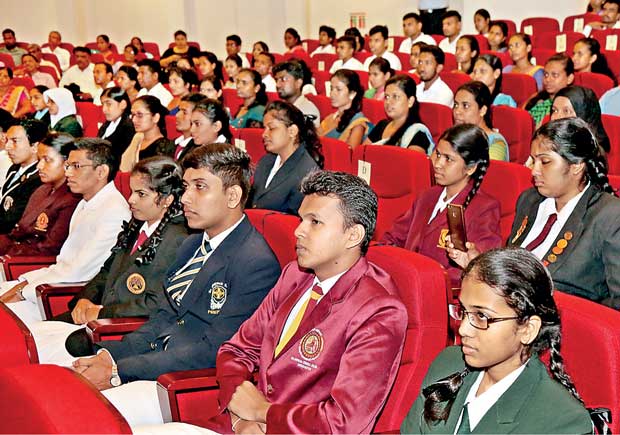 The Institute of Chartered Accountants of Sri Lanka (CA Sri Lanka) recently awarded scholarships to 140 outstanding students, including the top achievers at the 2016 GCE Advanced Level Examination, to help them realise their dreams of becoming globally sought-after chartered accountants.
The scholarships were awarded at the institute's annual scholarship awards ceremony, which was held under the patronage of Higher Education State Minister Mohan Lal Grero, CA Sri Lanka President Lasantha Wickremasinghe and CA Foundation Chairman
B.R.L. Fernando.
The scholarships were awarded under four main categories; for students who were adjudged the top ten achievers at the 2016 GCE Advanced Level Examination, and district first of the same examination, as well as under the L.A. Weerasinghe Memorial Scholarship Scheme and Business Level Trainees
Scholarship Scheme.
Grero speaking at the event said the government welcomes private higher education providers who will provide education ensuring high quality of studies.
"On average more than 150,000 students pass the Advanced Level Examination and are eligible for higher education, but the state universities can only accommodate about 20 percent of these students, so 80 percent are left out. Therefore, private higher education providers who will provide this education with quality are most welcome," he said. Grero noted that Sri Lanka needs higher education at a higher and broader level and steps need to be taken to increase access to higher education, so every person who is eligible for it, can enjoy it.
"We try our best to increase the number of enrolments to state universities by 10 percent but state universities alone cannot meet this growing demand," he added.
Addressing the scholarship recipients, Wickremasinghe said that scholarships are an important initiative by any institute and in keeping with this objective, every year CA Sri Lanka identify students who have performed exceptionally well to reward them based on their performances and requirements. "Scholarships are usually awarded to a very exceptional group of students based on their outstanding talents, and therefore we are pleased to see students of exceptional quality joining us," he said.
Even though accountants produced in Sri Lanka are recognized and are in demand globally, Wickremasinghe recalled that the world we operate in is increasingly facing renewed challenges and therefore it was important to develop the accounting profession and professionals further, to ensure they remain relevant and their demand continues.
"As a profession, we no longer have the option of relaxing. We need to ensure that we remain on par globally, to be successful and sustain the success.
We must understand the importance of being relevant and the need to embrace transformation.
Therefore, we are continuously changing and updating our curriculum regularly to meet needs of both employers and employees across all levels of competencies, so we know our chartered accountants are a unique breed of professionals, who have the ability and skills to lead any organisation," he added.
Fernando highlighted the importance of possessing vision even as a student.
"We always need to have a vision. Even when following a course, it's important to have a vision and don't let anyone trample your vision of wanting to become a qualified professional," he said.
Fernando also said that as much as technical competence was an important pillar in a chartered accountant, both vision and the ability to make judgement calls were equally important traits for a chartered accountant.
CA Sri Lanka Chief Executive Officer Aruna Alwis said that the institute has always believed in attracting students not only from Colombo but also from the most rural village in the country.
"We believe it is important to give equal opportunity to every student in Sri Lanka, so everyone can pursue their dreams of a successful career," he said.