---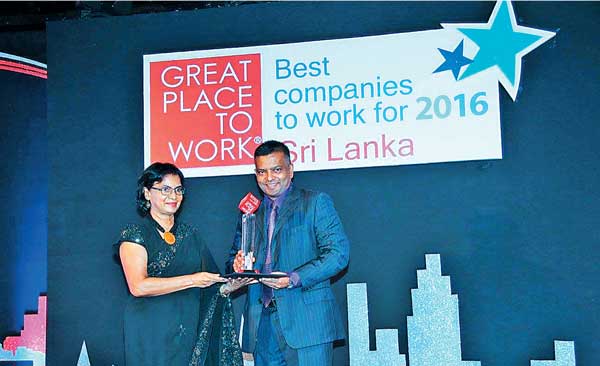 Burger King Sri Lanka, which is exclusively managed by master franchisee Softlogic Restaurants (Pvt.) Ltd, backed by Softlogic Holdings PLC, was recognized as one of the 'Great Places to Work 2016' in Sri Lanka recently.

Great Place to Work Institute Sri Lanka in collaboration with the Ceylon Chamber of Commerce and LMD facilitated the 'Best 25 Companies to Work for' in the country following an extensive research, which is the world's largest annual study of workplace excellence. Burger King Sri Lanka managed by master franchisee Softlogic Restaurants (Pvt.) Ltd, won this award in the very first year of its participation in the survey.

"We are pleased and humbled to receive this recognition as one of the greatest places to work in Sri Lanka for the year 2016," said Softlogic Restaurants (Pvt.) Ltd Chief Executive Officer Suresh Jayawardene.
"At Softlogic Restaurants (Pvt.) Ltd, we place a significant emphasis on our human capital. This is driven by our three pillar organisation mission where the first pillar is Happy Employees. We have taken great pains and shown an uncompromised commitment to convert this mission into reality.

In order to do this, we provide our staff with above industry level incentives, training, career development opportunities including management programmes, staff housing and transportation, free-of-charge food on duty and a flexible work environment. We are delighted to receive the recognition and it has been a team effort by everyone in the company to uplift the critical resource of human capital in our business."
This is a significantly impressive accomplishment for the Burger King Sri Lanka franchisee, which pulled off the unprecedented feat of opening three outlets simultaneously at its inception, thereafter expanding to a total of 11 outlets within just two and a half years of operation. Moreover, the chain has managed to do so without any operational setbacks and by maintaining impeccable standards of health and safety while receiving glowing feedback from satisfied customers all thanks to a world-class team behind counters.