---

Burger King which is exclusively managed by master franchisee Softlogic Restaurants (Pvt) Ltd, just unveiled their 11thoutlet at Negombo Road Wattala recently.
Wattala is a bustling suburb full of activity, with an affluent populace and was thereby seen as the perfect new addition in Burger King's expansion strategy for Sri Lanka.The international restaurant giant Burger King, kick started its entry into the market with an unprecedented three outlets simultaneously in Colpetty, Mount Lavinia and Rajagiriya.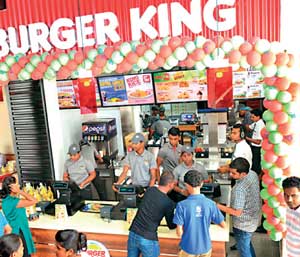 Close on its heels the brand also opened outlets at Arcade Independence Square, the Central Hospital food court, Kandy City Centre, Liberty Plaza, Negombo, Fort (Colombo 01) and Bandaranaike International Airport, with Wattala being its latest addition in the chain.
With vibrant surroundings, friendly crew members, ample parking space, a Drive Thru facility and mouthwatering meals, Burger King definitely is a highly anticipated and welcome new dining option for the residents of Wattala. The restaurant will stay open from 7AM-11PM on weekdays and from 7AM-12 midnight on weekends, for the convenience of the busy and active residents of the area.
The fast food favourites which bill themselves as the 'Home of the Whopper' grills rather than fries their patties for an exceptionally rich and clean flavour which burger-lovers adore. Customers dining at Burger King can choose from a deliciously diverse menu featuring not only world-renowned products like the Whopper, but also more localised menu items such as the flavourful King Rice to satisfy cravings of the Sri Lankan palette.
While signatures like the fire-grilled Whoppers form the very foundation of Burger King, the menu offers something for everyone including exciting new twists on the classic burger such as the cult favourite, the Long Chicken and the fantastically crunchy Spicy Chicken Burger.