---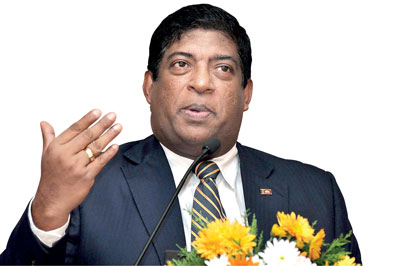 By Chandeepa Wettasinghe
The budget 2017 would lead to greater fiscal consolidation at the same time deliver benefits to the public, Sri Lanka's Finance Minister said in his first meeting with the private sector after reading the budget on Thursday.

"We wanted to ensure financial discipline will come in. We wanted to show that fiscal consolidation is taking place. We have to increase revenue, which was 10 percent (of GDP) when we took over to 13 percent now, to 15 percent," Ravi Karunanayake told a post budget seminar organized by Ernst & Young in Colombo.

He said that the government does not want to tax further from those who had paid taxes so far, and that more efficient tax collection methods would be used to increase tax revenue.
"We didn't want to burden the public. We will be collecting taxes from those who have not been paying so far," he said.
While total revenue is expected to increase to Rs. 2.09 trillion in 2017 from Rs. 1.65 trillion this year, taxes on goods and services is expected to contribute just over half of the revenue with Rs. 1.09 trillion, up from Rs. 854 billion in 2016.
Compared to the 2016 budget, of which several proposals have still not been enacted and have been included in the 2017 budget, Karunanayake said that he is not expecting the obstacles that were present last year to crop up over the next year, and assured that all required legislation will be passed before next April.
The implementation of the now legislated proposals of the 2016 budget had gone through various unstable periods, where the Finance Ministry had issued press notices of policy implementations before the enactment of legislation which were eventually not followed through, and even the enactment of the Value Added Tax Bill in May which was suspended by the Supreme Court.
Karunanayake was questioned on whether any business or individual that acts based on press notices
will be protected.

"Yes, they will be protected," Karunanayake assured.
Meanwhile, he said that the 10 percent Capital Gain Tax on immovable properties will only be applied on properties owned for less than 10 years, and therefore, mainly affecting real estate traders. The government expects to raise Rs.5 billion from Capital Gain Tax.