---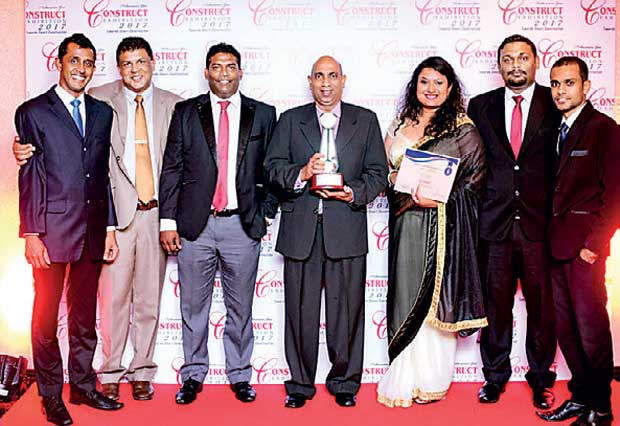 From left : Product Manager Ruwan Kodisinghe, Chief Manager Brands and Product Development Shalinga Alawathugoda, Head of Sales Gihan Fernando, Deputy General Manager Piyal Pathirana, Manager Brands and Product Development, Tharanga Witharana, Operations Manager, Lalin Fernando and Product Executive Sampath Wijethunga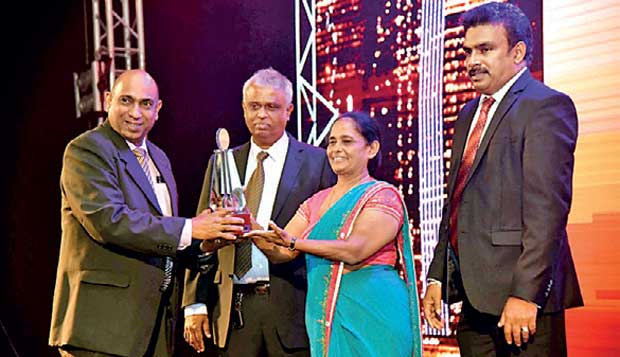 Deputy General Manager, Browns General Trading Division, Piyal Pathirana receiving the award from W. K. K. Athukorala, the Secretary of the Ministry of Housing and Construction.
The Browns General Trading Division (Browns GTD) walked away with the 'Most Committed Stall' award at the 'Construct 2017 Awards Night' held at the Water's Edge, recently.

The stall was designed based on the theme, "Building on Trust". Browns GTD displayed their total product portfolio at the 3-day exhibition and demonstrated the latest DIY Makita cordless tool range.
The annual Construct Exhibition is organized by the National Construction Association of Sri Lanka (NCASL), a leading organisation which is committed to the development of the country's construction industry. The exhibition is Sri Lanka's largest and most reputed event related to the construction industry and the event brings together builders, architects, engineers, contractors, developers, designers from all regions of the country.

Sharing his thoughts about winning the 'Most Committed Stall' award, the Deputy General Manager of the Browns General Trading Division, Piyal Pathirana stated, "We are indeed honoured to have been presented with this coveted award. I am pleased to say that the product range exhibited at our stall was at the highest level of excellence in engineering. At Construct 2017, we experienced great enthusiasm from the general public and we were also able to gauge the level of recognition, trust and acceptance we have gained and built over the yearsdue to our brands, products and world class service. This is undoubtedly a well-deserved accolade for the Browns GTD team that worked tirelessly to facilitate the best display of our products and the best at the Construct 2017 exhibition."

Browns GTD's contribution to the construction industry continues to evolve as it offers a high level of understanding, knowledge, creativity and expertise whilst delivering sustainable solutions for the key players in the construction, woodworking and the DIY industry. Be it a power tool, cutting wheel, pressure washer, power generator or even a simple garden tool, Browns GTD is today geared with well-over a century of engineering expertise. Browns is known for importing and marketing superior quality, acclaimed brands of power tools, engineering tools and related equipment.

The innovative Makita cordless range of power tools, tried and tested for quality was a key highlight at the event. Makita products were demonstrated by the principals from Makita Singapore, who participated at the exhibition. Tailin cutting wheels, Eclipse blades and accessories, Spear and Jackson range of high quality brickwork, woodwork, masonry and garden tools, Firman portable power generators, JK files and world renowned Hyundai power equipment were among the other notable exhibits displayed at the Browns GTD stall.