---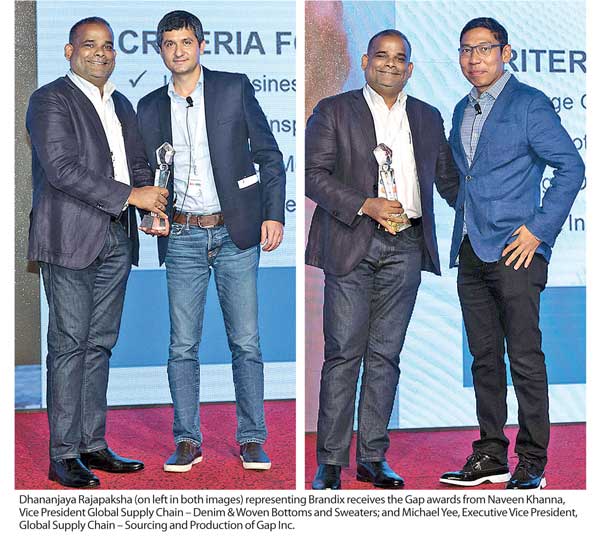 The Brandix Group has won two top awards including the award for 'Outstanding Vendor – Overall Excellence' from Gap Inc., a leading global retailer of clothing.

The awards, presented at the Gap Inc. Global Supply Chain's 2016 Vendor Summit in Hong Kong, recognise Brandix's contribution to Gap in terms of business volumes, product quality, speed and flexibility, on-time delivery and response to in-market issues.The second award presented to Brandix was for 'Outstanding Vendor Performance – Bottoms.'

The Brandix Group also won Gap Inc.'s 2015 Supplier Award for Product Innovation at an awards presentation in San Francisco last year.

One of the largest retailers in the USA with over US$ 16 billion in sales, Gap Inc. has an extensive base of global vendors many of them considerably larger than Brandix. Gap Inc. retails clothing, accessories, and personal care products for men, women, and children under the Gap, Banana Republic, Old Navy, Athleta, and Intermix brands.

Ranked Sri Lanka's most valuable export brand in Brand Finance's 2016 ranking of the country's leading brands, Brandix is the pioneer of the concept of 'total solutions' in Sri Lanka's apparel sector and is a preferred supplier to some of the top retail brands in the US and Europe. Brandix is also a benchmark and international award winner for eco-friendly apparel manufacture and commitment to environmental best practice. The Group employs more than 48,000 people in its manufacturing facilities in Sri Lanka, at the Brandix India Apparel City in Andhra Pradesh and its large operation in Bangladesh.