---
By Zahara Zuhair
While providing a better understating of Board of Investment (BOI) policies for foreign investments, BOI Chairman Upul Jayasuriya assured that all foreign investments were safe in Sri Lanka, and that BoI was always prepared to facilitate any shortcomings faced by
the investors.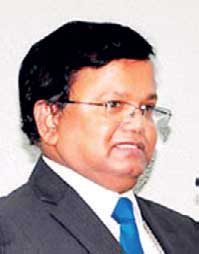 He said that in Sri Lanka there was no requirement with regard to a particular equity ratio to be held by the foreigners and
the locals.
"If you want to have 100 percent ownership for your own investment, you are welcome to do so. Your investments are safe in our country, we have a constitutional guarantee given for the investors in our county and we mean it," he told a business forum held in Colombo, recently.
The chairman said that Sri Lanka now offered a climate, which was the safest in
the region.
"You can also set up your headquarters if you so desire and then have other operations in other countries. You can bring in your investments to our country and take them out, not only the investment, but also the dividends you earn from investments in Sri Lanka.
When you bring your investments into our country, we protect not only your investments, but also all the capital goods that you may be investing in your production line and the raw material for the purpose of exports which will be free of customs duty," he said. "In addition, the investment you make can be deducted from the profits you make from your investments for a period of six years—in other words you will have tax holidays that you can enjoy up to about six years. This is up to the level of investments you are making in the country," he noted.
With regard to the customs issues the investors may come across, he said that with the agreement they signed with the BOI, it was the BOI that would be facilitating their customs issues as the Customs Department.
"Also, when you sign an agreement under BoI law, we will be the exchange control department to facilitate your issues in connection with exchange control," he added.
Jayasuriya also said that they would grant visas for the investors for two years, which could be extended, and currently it is being considered to provide visas for a 5-year period at a stretch.
He said that if there was any issue that investors thought could not be resolved at BOI's level, then the BoI would refer the matter to a weekly economic committee presided by the Prime Minister.
"Relevant ministers will be there, every week they meet and sort our issues. Even new principles are laid out to meet the requirements," he explained.