---
The Bank of Ceylon invites BOC card holders to enjoy shopping for Avurudu with their families as they can enjoy the highest discounts during the Avurudu period.
The bank offers discounts for both its credit and debit card holders at popular shopping outlets across the country. Having over a hundred outlets to choose from, BoC card holders can enjoy this promotion throughout the Avurudu season on selected days, many till 30th of April and some popular leisure destinations as long as July 2017.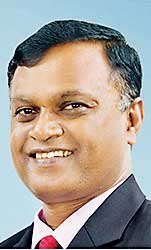 This special Avurudu discount promotion covers textile and apparel, footwear, jewelry, hotels and spa, restaurants, toy shops, bookshops and insurance offers. Customers can do their shopping with a relaxed mind to make purchases with ease and securely without the risk of carrying the cash.
With the large number of outlets available, customers can choose and spend wisely whilst saving during Avurudu season. Many popular retail outlets such as House of Fashions, Hameedia, Rich Look Fashion, Super Fashion, Spring and Summer, Addidas, Saree Mandir, Envoy, Emma, Diliganz, GCS, TFO Factory, Galle City, Sunimal's, Andum Andum, Bellro, aditi, Hammaa, Shirtworks, Crocodile, Beverly Street, Fashion Bug, Cool Planet, CIB, Eaststar, Hemantha Textile, Saffan's, Bootzz, DI Leather, Baby Care, Next, Kumaran's Ideal Exclusive, Aurora and London Stores offer discounts up to 35 percent. Popular jewelers who have come on board are Fior Drissage, Raja Jewellers, Chamathkara, Stone and String and Lover. Apart from this seasonal Avurudu offer, BOC Card holders can exclusively avail themselves of this opportunity to enjoy their holidays with massive discounts up to 50 percent at Aliya, Kithala, Wild Trails, Mount Batten, Queens Hotel Kandy, and many others.
All these special offers come along with all other exclusive benefits which BoC card holders are entitled to. Understanding the changing requirements of customers, BoC credit cards have arranged an array of benefits for you such as the lowest interest rate in the market, free life insurance permanent disability cover (Gold Card- Rs.100,000, Classic Card Rs.50,000), free lost baggage insurance cover during air travel, emergency hospitalization limit enhancement facility, loyalty points and point redemption facilities, 50 percent cash advance on availability of a credit limit once a month at any ATM, 52 days (maximum) interest free credit, supplementary card for 3rd party with a flexible limit, free SMS alert facility, easy arrangement plans at our merchant network up to 60 months, speedy credit evaluation for government servants and BOC customers and easy bill payment facilities. With improved real time online card transactions all credit card bill payments will be updated instantly.
All transactions made on cards can be traced easily by registering for the quick SMS Alert for any given telephone number of the customer. Customers can also register for an e-statement and receive it more securely to an email account provided by the customer at the end of the each billing month.
"Being a responsible bank BoC offers a range of cards that are designed to fit the customer's requirement and capacity. It is one of the safest cards that are accepted world-wide. BoC Visa cards come in the range of platinum, international gold and international classic, its Master card option offers Titanium range and Flexi cards are also available. With BoC debit cards customers can withdraw or transfer money up to a maximum of Rs.100,000 per day through any of the 827 ATMs and CDMs network that is spread across the country anytime you need to do so," stated Deputy General Manager Product and Banking Development, M.J.P. Salgado.