---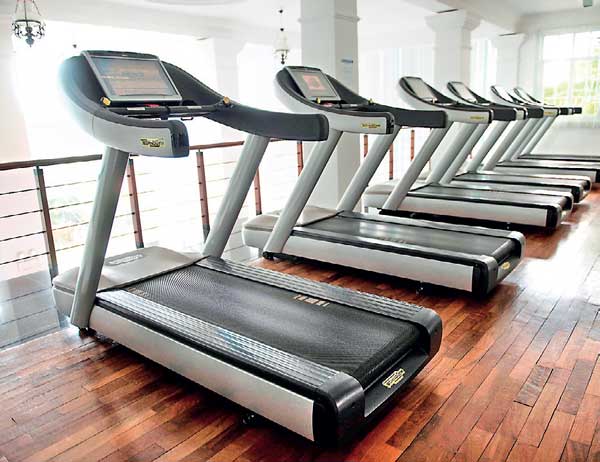 Blue MountainGroup's latest addition to its business portfolio, OSMO Fitness now offers members an exclusive health and fitness experience in the heart of Colombo'ssuburbs. The state-of-the-art sports and wellness complex is located in Pellawatte Battaramulla, in a tranquil and scenic setting and offers fitness enthusiasts access to world-class training equipment and luxury facilities. OSMO Fitness caters to an elite community of health-conscious members with a penchant for fitness. The complex is part of Blue Mountain's long-term diversification strategy and ongoing commitment to create environments that encourage Sri Lankans to embrace fitness, health and their overall well-being.
To ensure that members can visit the complex at their convenience, the facility is open from 5.00 a.m. to 10.00 p.m, 365 days a year. It is equipped with spacious steam and sauna rooms, elegantly designed locker facilities and a VIP member's lounge that is fully air-conditioned and has Wi-Fi connectivity. The sports complex also features Sri Lanka's first badminton court with air-gapped floors, a squash court as well as facilities for table tennis and martial arts. The complex also has a total of four car parks that have the capacity to hold 150 cars, ensuring that members never have to waste time trying to secure a parking slot.
Commenting on the group's latest business venture Dr. Hiran Hettiarachchi (MBBS-Colombo and MBA-Australia), Group Chairman of Blue Mountain, stated, "OSMO Fitness is a core brand of Blue Mountain Wellness and Sports, a fully-owned subsidiary of the Blue Mountain group. Over the years Blue Mountain has strengthened its reputation as a leader and trailblazer in the real estate and property development industry of Sri Lanka, however we also believe that it is important for us to diversify our business interests to achieve even greater growth in the future.
Many members of our senior management team are also medical doctors by profession and at all levels of the company, we are passionate about raising awareness about the many benefits of a healthy lifestyle. OSMO Fitness is one of many initiatives that will help us to inspire Sri Lankans from across the country to live a more fit and active life. Staying fit is one of the best ways to deter stress as well as the onset of a variety diseases and ailments. At OSMO Fitness, members can enjoy a truly luxurious fitness experience and make full use of our vast offering of facilities, classes and equipment. We are also honoured that the complex is patronized by some of Colombo's most elite VIPs, celebrities and athletes.» OSMO Fitness is also currently the only complex in Sri Lanka that has Technogym equipment, which is currently the world's number one brand of fitness equipment. Technogym equipment blends design with cutting-edge technology and innovation and is certified by the Olympic Committee. OSMO Fitness also has a Kinesis system, which members can use to try out a selection of 450 different exercises. Members can also use the Miracle Body device, a tracking component that helps to set and monitor daily fitness targets.
The treadmills at the complex are also equipped with TVs and computer screens some mbers can watch their favourite movie or sports channels or even check their e-mails whilst exercising. Offering members a truly interactive and engaging fitness experience, OSMO Fitness also provides a variety of training programmes that are conducted by certified instructors. Training programmes include freestyle training, group exercises, cardio and strength training, a one-on-one personal training option, cross fit, intense abdominal exercise sets, functional training, aerobics, zumba and yoga. All membership packages at OSMO Fitness are designed to suit different customers' needs and customized membership packages are available for individuals, couples and families.
Doctors, corporate leaders, as well as children are also eligible for special membership packages. Members can also opt to select a weekend only membership or can simply attend classes and personal training sessions. The annual membership is approximatelyRs.85,000 per person and creditcardholders are eligible for a further discount.