---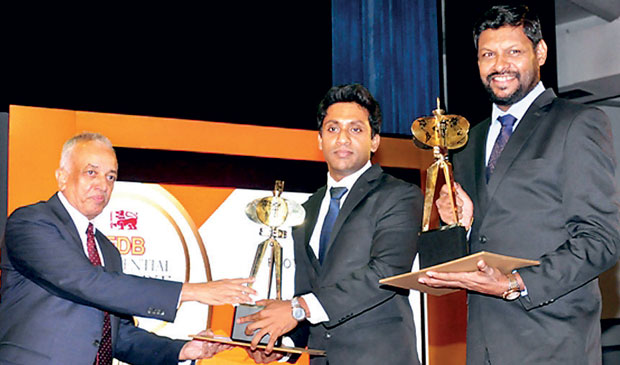 From left: Development Strategies and International Trade Minister Malik Samarawikrama handing over the awards to BPPL Senior Factory Manager Manoj Udawatta and Director Factory Operations Prasad Perera
A wholly-owned subsidiary of BPPL, Beira Brush won the prestigious Presidential Export Award for the Highest Value-Added Exporter in the chemical and plastic product sectors in 2014 and 2015.
The award ceremony was organised by the Export Development Board (EDB) and held at the BMICH recently.
The momentous occasion for Beira Brush was further augmented by the fact that this accolade was bestowed on Beira Brush in the presence of President Maithripala Sirisena, who graced the occasion. In order to power the national economy further, Sri Lanka urgently needs to fast track exports.
Beira Brush has also been recording a strong export performance year after year and remains focused on expanding its presence in new and emerging markets apart from deeply entrenching its presence in established ones. Its exports span over 20 countries which makes the company a major foreign exchange earner for the national economy. The company owns one of the largest backward integrated brushware manufacturing facilities in South-East Asia.
BPPL Chief Executive Officer Dr. Anush Amarasinghe commented, "BPPL is being led by a vision to push the frontiers of brush making through research and innovation, underpinned by a strong sense of ethical responsibility and sustainable manufacturing. As a company, we are constantly thinking about how we could do things better, more responsibly, in a more meaningful manner, thereby adding value not only to our customers but also to the knowledge base of the country. We have ambitious plans chalked out for BPPL and are well on our way to achieving them. Sri Lanka is a nation on the march towards prosperity and we want to be positioned as one of the proud local companies that showcase local talent and skills to the world. This presidential accolade will certainly help us in accomplishing that task."
Operating in a niche segment, Beira Brush has already established a strong track record as a high-quality brushware and filament supplier to the US, Canada, the UK and Australasian markets. The company's reach spans the entire globe, with 70 percent of its products being exported to leading brands in the US and 10 percent to Australia and New Zealand. Its products are also available in Canada, Europe and the Indian subcontinent and in other countries.
Some of the key buyers that the company caters to, include large-scale retailers such as Home-Depot, Rona, Lowes, Tesco and Mitre-10, providing a door-to-door service model. Beira Brush is now the preferred supplier for leading global brands such as Oates, Grainger, and Rubbermaid. BPPL has established a unique niche in brushware manufacturing that enables it to make use of locally available resources and technical expertise to deliver world-class products. The company operates five state-of-the-art factories and warehouses spread across 210,000 sq ft and the Beira Brush facility produces six million pieces of brushware per year including plastic brush backs.