---
Beauty Gems, a leading company in the business of gems, won the Bronze award in the Large-Scale for the Western Province, at National Level, at Entrepreneur of the Year 2017, organised by the Federation of Chambers of Commerce and Industries of Sri Lanka (FCCISL).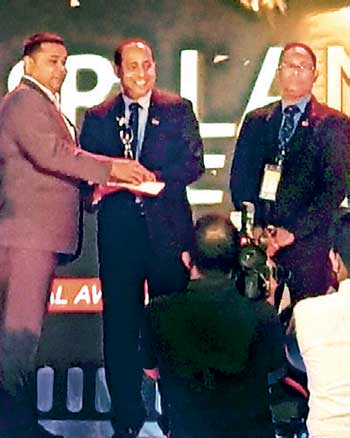 With its approximately 100-year long articulation of gem-related experience that has descended down generations, Beauty Gems trades gems such as cat's eye, alexandrite cat's eye, star sapphires, rubies, pink sapphires, alexandrite, padmardhacha, tsavorite and spinel.

Beauty Gems owns the ISO 9001:2008 quality assurance certificate.
Beauty Gems, which has imprinted the Sri Lankan identity by participating in a number of international trade exhibitions, was the first local company to have exported gems to China and thereby, now the company is recording the highest rate of gem exports to China. "The secret behind our success is quality management, full customer satisfaction and collective pursuit," said Beauty Gems Chief Executive Officer Ahzar Zawahir.

Beauty Gems issues a certificate for every gem it sells so as to safeguard the faith it breeds in the customers. Its gems are certified to fall within international standards. Beauty Gems is located at No: 13, Nawfer Jabeer Mawatha, China Fort, Beruwala and Beauty Gems showroom is located at No: 9A, St. Albun's Place, Colombo 4.