---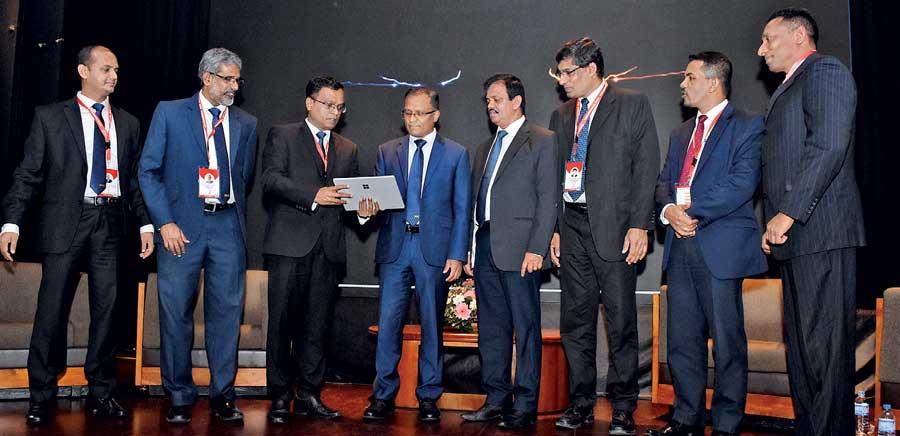 From left: BOC Assistant General Manager Suresh Perera, BOC IT Head Lakshman Perera, BOC Product and Banking Development DGM M.J.P. Salgado, BOC CEO and General Manager Senarath Bandara, Central Bank of Sri Lanka Payment and Settlements Director Dharmasiri Kumarathunge, University of Colombo School of Computing Deputy Director Dr. Ajantha Athukorale, University of Sri Jayewardenepura Postgraduate Institute of Management Faculty Member Management Consultant Dr. Samantha Rathnayake and Kothalawala Defence University Computer Science Faculty Dean Commodore J.U. Gunaseela
Pic by Nimalsiri Edirisinghe
By Harshana Sellahewa
Bank of Ceylon (BOC) recently inaugurated an international symposium on innovative banking titled 'InnovBank', commemorating the bank's 80th anniversary, under the theme 'Innovative Banking in a Smart World'.

The inauguration, held at the BOC head office in Colombo, was graced by BOC General Manager and CEO Senarath Bandara, dignitaries from the bank's upper management, professionals, academic, schoolchildren, teachers and media among other invitees.

The event also saw the launch of 'www.innovbank.lk', the website portal which is open to the public to submit research papers, concept papers and proposals, through November 4, 2019 to January 4, 2020.

Through this first-of-its-kind initiative hosted by a banking institution in Sri Lanka, BOC aims to boost industry growth by prompting digital innovations, providing a smarter and more seamless banking experience for customers, while also bringing academics and professionals on to one common platform. This event is also considered a corporate social responsibility (CSR) initiative under the bank, for the betterment of Sri Lanka's
banking ecosystem.

According to the bank, in the future, the banking sector will be mainly focused on technology-based solutions, digitalised processes, innovative products and services along with artificial intelligence support by data analysis.

Key personalities responsible for the planning and initiating of the InnovBank international symposium include BOC IT Head Lakshman Perera, BOC Assistant General Manager Suresh Perera, University of Colombo School of Computing Deputy Director Dr. Ajantha Athukorale and University of Sri Jayewardenepura Postgraduate Institute of Management Faculty Member Management Consultant Dr. Samantha Rathnayake.

The symposium is open internationally, as those who reside overseas are also welcome to participate.

The initial review period for submissions is January 5 to 20, 2020 and then the presentations will be called for from January 21, 2020 to February 20, 2020, with notifications for selected papers from February 20 to 25, 2020. Finally, the symposium will kick off in March 2020.

The categories for the InnovBank symposium include Fintech Solutions in Banking, Business Process Re-engineering in Banking, Artificial Intelligence in Financial Industry, Innovative Banking Products and Services and MIS and Big Data Analytics for Decision-Making.

Proposals and research papers are expected to be submitted from university academics and undergraduates, institutions, practitioners, students in state and non-state schools and enthusiasts, who include novel thinkers and fintech innovators.

Three main phases have been put in place to recognise best papers and proposals depending on specific evaluation methodologies pertaining to the category
of participants.

An initial screening by professionals will review the usefulness of the concept and practical applicability and papers and proposals selected at the initial review are expected to be presented before an expert panel. Finally, shortlisted papers and proposals will be named for the final presentation at the InnovBank
international symposium.

The top performers who get the opportunity to present their ideas at the symposium will also gain special recognition for their work, receive valuable certificates, as well as attractive
cash rewards.