---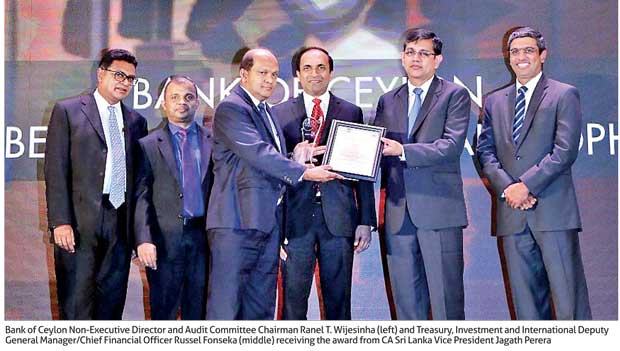 The Bank of Ceylon's 2016 Annual Report won the Gold award for the state bank category at the 53rd Annual Report Awards by Chartered Accountants (CA) of Sri Lanka.

The award ceremony was organised by the Institute of Chartered Accountants of Sri Lanka to recognise the organisations that have promoted transparency, accountability and social responsibility in financial reporting. The institute of Chartered Accountants of Sri Lanka has formulated this year's theme as 'Quintessence of Eminence', to select the most cohesive, clear and customised annual reports that best reflects an entity operation whilst going beyond its financial performance. The prime objective of the Institution CA of Sri Lanka was to encourage effective presentation of financial and non-financial information to stakeholders through fulfillment of compliance to legislative requirements and generally accepted accounting practices.

"On behalf of all its stakeholders the Bank of Ceylon makes an effort to communicate its financial and non-financial information in a holistic manner to represent the true nature of the bank's performance. BOC from being a responsible services provider for its customers, whose integrity has been tested over a span of 78 years, the bank has evolved to deliver a service which goes beyond mere banking to its community," stated President's Counsel Chairman Ronald C. Perera. In this regard BOC has won several awards in the recent past such as the merit award under state owned enterprises category for its 2015 Annual Report at the Excellence in Integrated Reporting Awards (conducted by the Institute of Certified Management Accountants of Sri Lanka to coincide with the CMA National Management Accounting Conference). Then again it was the winner at the Public Sector Banking Institutions at SAFA Awards 2015 organised by the South Asian Federation of Accountants –SAFA.

"The bank ensures that its annual report complies with the standards set by regulatory bodies and international reporting guidelines such as International Integrated Reporting (IIR) framework issued by the International Integrated Reporting Council and GRI G4 guidelines issued by the Global Reporting Initiatives (GRI) for sustainability reporting," stated General Manager D.M. Gunasekara.