---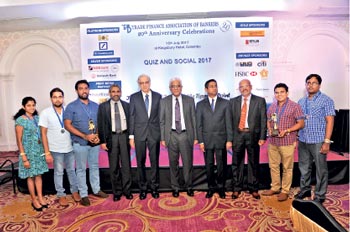 Bank of Ceylon's team for the Inter-bank trade quiz organized by the Trade Finance Association of Bankers (TFAB) became the champions for the 'trade round', winning the one time award for the anniversary and first runner-up to the trophy
.
The 20th annual Inter-bank trade finance quiz was held at the Kingsbury Hotel recently with the participation of the Governor of Central Bank of Sri Lanka Dr. Indrajit Coomaraswamy as the chief guest. Every year the trade-Finance quiz attracts many talented teams representing member banks in the Trade Finance Association who are keen to win this prestigious trophy.

This year too, the competition was intense with 26 teams competing for the trophy. The Bank of Ceylon "C" team had Dhanushka Sumathirathne as the team leader, Kaushalya Wanniarachchi, Sachith Gurugamage, Supun Liyanage and Chathura Athukorala were the other members. BOC Trade Services was the first to be awarded with the ISO 9001-2008 in the banking sector-certification for from Sri Lanka Standards Institution. BOC is currently the market leader in the Trade Services industry with the largest operation counter in Sri Lanka.

Leading the Sri Lankan banking industry with over 78 years experience, the Bank of Ceylon has become the most stable and the trusted bank in the country that serves Sri Lankans from all walks of life helping them to build their lives and making themselves financially stable whilst uplifting the country's economy.

The bank earned global recognition as one of the top 1000 banks in the world, (Country rank No.1) as listed by "The Banker Magazine" (UK). The Bank claimed its award as the only Sri Lankan brand recognized as one of Asia's Best Brands in 2013 by the Chief Marketing Officer's Council (CMO Council) based in Mumbai, India. Brand Finance Lanka has ranked Bank of Ceylon as the country's No. 1 brand for the last nine consecutive years. The bank has passed exceptional milestones in recent years such as becoming the first to gain over Rs.1.5 trillion assets, over Rs.1 trillion deposits and over Rs. 1 trillion advances. Focusing on the bank's achievement, Fitch Rating Lanka ranked the Bank of Ceylon at AA+(lka) which is the highest rating awarded to a local commercial bank and ICRA (lk) awarded AAA rating which is the highest credit quality rating issued by ICRA Lanka. BOC won the merit award for the Annual Report 2015 under State-owned enterprises category at the Excellence in Integrated Reporting Awards – 2016 conducted by the Institute of Certified Management Accountants of Sri Lanka. The Bank of Ceylon maintains international presence with three overseas branches and a subsidiary in London.