---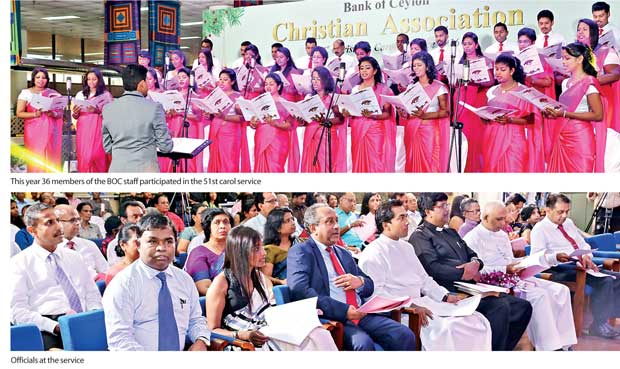 Bank of Ceylon (BOC) Christian Association celebrated its 51st Christmas carol service recently. The first carols service was held on December 17, 1965.
Since then, the Christmas carol service has been held in the bank every year. This year, 36 members of the BOC staff participated in the 51st
carol service.
Despite their busy schedules at the work stations, with their dedication they were able to conduct a successful and a very colourful event.
The chief guest was Baptist Sangamaya Secretary Rev. Heshan De Silva and Colombo Catholic Press Director Rev. Fr. Mahendra Gunathilaka. Rev. Fr. Maurice Gerard of Santa Maria Church, Kandy also took part in the service. There were other rev. priests in attendance on this day. BOC Chairman President's Counsel Ronald C. Perera and General Manager D.M. Gunasekera were the guests of honour.
This Service is also a long awaited event in the Bank by all staff members, irrespective of any religion, which is enjoyed by all.
The Bank's retired staff members too, eagerly await for this carol service, as it gives them an opportunity to meet each other and share their love and joy, which is the real meaning of Christmas.
The melodious sound of Christmas carols can be heard all over, announcing the joyous season of Christmas. Surroundings are decorated and illuminated to suite the season, which brings joy and happiness irrespective of age.