---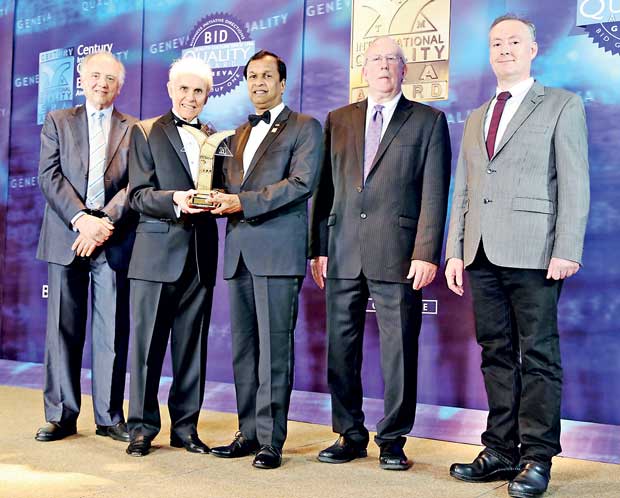 From left: Prof. Dr. Alfonso C. Casal, Scientific Director of BID, Jose E. Prieto, President and CEO of BID, Sunil Dissanayake, Director & CEO of S.W.R.D. Bandaranaike National Memorial Foundation (BMICH), Norman Ingle, President of the Quality Mix and Devin Savage (MEP)
Geneva hosted this year's BID Century International Quality ERA Convention, where professionals and business leaders from around the world gathered to recognize excellence and success. In particular, the convention celebrated quality in business and operations. Award winners demonstrated commitment to quality standard, which helps bolster customer satisfaction and cost efficiency across all areas of operation.
Among this year's winners, S.W.R.D. Bandaranaike National Memorial Foundation (BMICH), from Sri Lanka, received the Century International Quality ERA Award in the GOLD Category at the BID Quality Convention in Geneva.
The organization has made huge strides this year as a leader not only within its sector, but also in Sri Lanka. The Award came as an ideal way to celebrate this past year's successes while looking forward to putting quality first in the year to come.
Geneva is a financial global center and the worldwide headquarters for diplomacy thanks to numerous international organizations that call Geneva home, including the largest United Nations Headquarters in Europe, the Red Cross, and other major financial institutions and multinational companies.
Sunil Dissanayake stood before the gathering of international leaders, sharing the company's achievements as well as its future ambitions and goals. Despite the difficult current global economic climate, S.W.R.D. Bandaranaike National Memorial Foundation (BMICH) strives to excel in quality each day, creating a competitive advantage in its industry. For this reason, S.W.R.D. Bandaranaike National Memorial Foundation (BMICH) won the 2016 BID Century International Quality ERA Award in Geneva. The Award is presented by BID to those companies and organizations from around the world that best adhere to excellence and innovation in their practices, putting quality first at all levels of organization.
Leaders awarded by BID are united by their commitment to quality in their respective sectors. This year, winning organizations include:
AERIUM - CEFIC TURKEY from Turkey, Mergevan LLC from Mongolia, Breast Care International from Ghana and anal Mooring & Lights Company from Egypt. The companies honored in Geneva were recognized not only for their entrepreneurial achievements, but also for their dedication to continuous improvement and innovation.
Seeking to increase customer satisfaction and optimize efficiency, these companies promote an organizational culture of engagement and a proactive approach to improving processes.
All of the winning companies in Geneva have expressed their commitment to the QC100 TQM Model, which serves as an excellent example for other organizations in today's rapidly changing business environment.
By making customer satisfaction the highest measure of quality, BID award winners set the benchmark in their respective sectors and contribute to the social and economic development of their countries, paving the way for world-changing initiatives.
A key example can be seen through S.W.R.D. Bandaranaike National Memorial Foundation (BMICH), whose spirit of innovation and positive growth has overcome and indeed thrived in the challenging current global economic climate.