---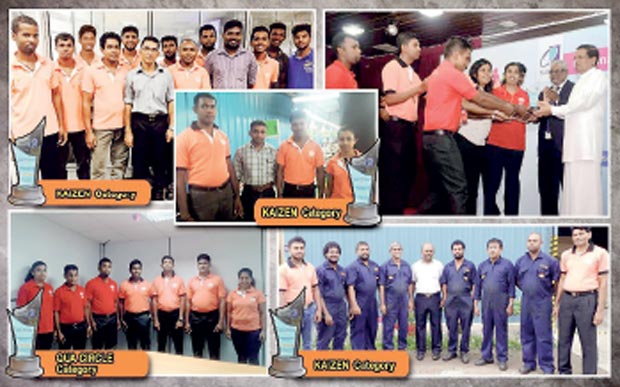 Atlas Axillia (Pvt.) Ltd swept the boards at the recent National Convention on Quality and Productivity (NCQP) Awards 2017, winning four prestigious gold awards at the illustrious event.

The NCQP Awards are presented annually by the Sri Lanka Association for the Advancement of Quality and Productivity. It is the only national convention in Sri Lanka that seeks to highlight the vital contribution made to corporate success by the non-executive tier of a company's workforce.

Atlas Axillia won three Gold Awards in the Kaizen suggestions category and one Gold Award in the Quality Circles category, cementing the company's reputation for the highest commitment to quality in its products and processes.

The convention focus on commemorating individuals and teams who practice and promote quality circles such as the Six Sigma and Kaizen concepts, which focus on a total quality management approach to a company's production and operational procedures. The 2017 awards were conducted under three categories – Quality circles, continuous improvement and Six Sigma teams, Kaizen suggestions and a Poster competition. Winners were selected for the awards following an intensive evaluation through desk reviews and presentations by QC teams.

"Winning the Gold Awards for the Quality Circles and Kaizen categories is a tremendous achievement, and we are extremely proud of our teams who continually demonstrate the highest levels of dedication, enabling our victory at the Awards," said Atlas Axillia CEO Muhammad Hamza.

Atlas Axillia Chief Operating Officer Viraj Jayasooriya attributed the company's success to the robust mechanisms implemented and the high levels of engagement of the workforce. "This achievement is the result of the Atlas company's long-term vision of ensuring the highest commitment to quality, efficiency and sustainability in all spheres of its operations. At Atlas Axillia, our employees are among our most valuable assets. Our teams are highly empowered and motivated and we are deeply appreciative of their efforts to ensure the company's continued growth and success," he added.