---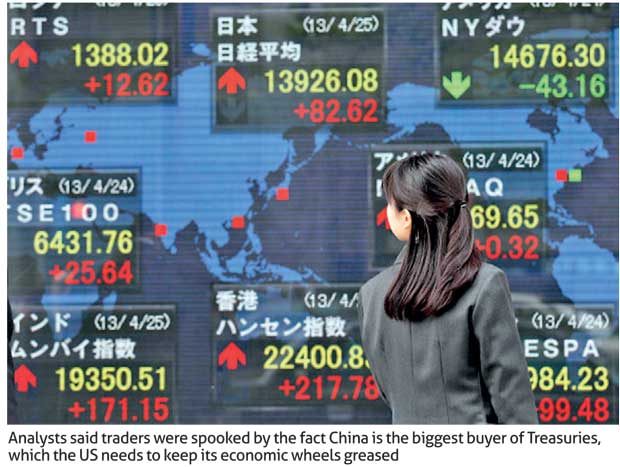 AFP: Asian markets plunged yesterday following a sell-off in New York as Donald Trump sparked fresh trade war fears by imposing huge tariffs on Chinese imports and Beijing unveiled its own measures against US goods.

The president announced levies on up to US$60 billion of imports from China for what he describes as the "theft" of American intellectual property, fuelling speculation that a strong recovery in the world economy could be thrown off course.

Thursday's announcement comes just weeks after the White House imposed stinging taxes on steel and aluminium products entering the US causing equities to plunge as Trump drives through with his America First protectionist agenda.

China responded by saying it was "not afraid of a trade war", while it also released a list of potential tariffs on US$3 billion worth of US goods, from pork to fruits and wine and including some steel and aluminium goods.

The news boosted Chinese pork producers though Hong Kong-listed WH Group, which owns US giant Smithfield, plunged eight percent.

There was little positive reaction to the US saying late Thursday it would suspend duties on metals imports from the EU, Argentina, Australia, Brazil, Canada, Mexico and South Korea.

Wall Street was sent spiralling by Thursday's news with all three main indexes shedding between 2.4 percent and 2.9 percent.

And those losses filtered through to Asia. Tokyo was hammered 4.5 percent to hit a near six-month low, with exporters also hit by a surging yen, which is considered the go-to currency in times of turmoil and uncertainty.

The greenback fell below 105 yen for the first time since Trump was elected president in November 2016, while it was also down against the euro and pound.
Hong Kong collapsed 3.4 percent and Shanghai lost 4.2 percent, while Sydney sank two percent.

Hannah Anderson, global market strategist at JP Morgan Asset Management, warned: "The effects are likely to be felt more strongly in the US and increase both consumer and producer prices.

"Exports are extremely important to the Chinese economy, but have been trending less so in recent years and the US has been shrinking as a share of China's export market."

She added: "The equity market will bear the brunt of the market reactions. Most impacted will be the US, Korea, and Taiwan as companies domiciled in these markets make up a significant portion of the global production chain of Chinese exports.

"Chinese listed firms, on the other hand, derive most of their sales around 80 percent from the domestic market."

Seoul was 3.2 percent down and Taipei fell 1.7 percent. Singapore dived 2.4 percent, Wellington gave up one percent and Manila dropped 2.3 percent.

Analysts said traders were spooked by the fact China is the biggest buyer of Treasuries, which the US needs to keep its economic wheels greased.

Adding to the uncertainty was news that Trump's national security advisor HR McMaster -- seen as a moderating hand in the administration -- had stepped aside and been replaced by nationalist John Bolton.

The announcement reinforced a sense of turmoil in the White House following the recent departure of secretary of state Rex Tillerson and economics guru Gary Cohn, who were both replaced by hardliners.

Trump's move to surround himself with hawks comes ahead of planned talks with North Korean leader Kim Jong Un and as he reassesses the Iran nuclear deal, which Bolton is firmly against.

The prospect of further upheaval in the tinderbox Middle East pushed oil prices up on concerns about supplies from the crude-rich region.
Both main contracts rose more than one percent yesterday.

Washington-watchers pointed to other factors behind the market turmoil, including concern the Federal Reserve intends to lift interest rates at a faster pace than expected next year, and talk of tech sector regulation following the Facebook data breach.

And the departure of John Dowd, a top lawyer on Trump's team in the Russia probe, has also been highlighted as another sign of uncertainty on Pennsylvania Avenue.