---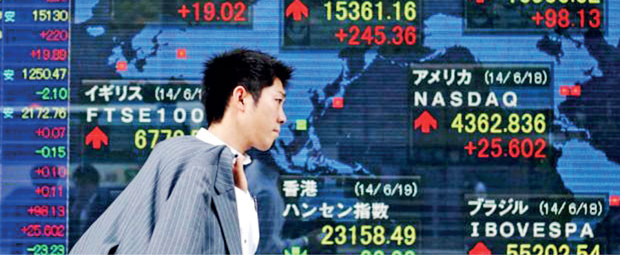 Asian markets headed into the weekend with another round of gains yesterday, following a record close for all three major New York indexes as traders welcomed a forecast-busting jobs reading.
But oil tumbled in late Asian trade on concerns of a ramp-up in fossil-fuel production following Donald Trump's controversial decision to withdraw the United States from the Paris climate agreement.
While there are concerns about the future of Trump's economic agenda, strong data have taken the front seat in driving global equity gains in recent weeks, pushing them to multi-year highs. And the advance was given a bump Thursday when payrolls firm ADP said the world's biggest economy created more than a quarter of a million jobs in May, far more than expected and boosting hopes for government figures due later in the day.
A healthy reading in the non-farm payrolls report Friday will likely be the rubber stamp the Federal Reserve needs to hike interest rates again later this month, with traders hoping for forward guidance on its plans for the future.
Greg McKenna, chief market strategist at AxiTrader, said in a note: "It is another indication that the US labour market is the brightest spot in the US economy.
"Assuming non-farms is strong again,then it's likely the US Federal Reserve will be emboldened with the view that jobs growth will ultimately lead to wages growth which will lead to inflation."
The upbeat reading, along with an improvement in US factory activity, helped propel the Dow, S&P 500 and Nasdaq to their highest ever closes, providing a healthy lead for Asia.
Tokyo ended up 1.6 percent, breaking the 20,000 mark for the first time since December 2015 as the jobs data lifted the dollar against the yen, boosting exporters. Hong Kong ended up 0.4 percent, while Sydney put on 0.9 percent and Seoul gained 1.2 percent.
Singapore, Wellington and Taipei also posted healthy gains while Shanghai edged up 0.1 percent.
But oil prices sank in the afternoon, with IG Markets chief strategist Chris Weston saying that the move "has caused a few oil traders to sell crude given Trump's actions could, in theory, lead to increased oil production".
The commodity was already under pressure on worries a new output cut by leading producers would not be enough to deal with a global supply glut.
But energy-related firms were barely affected by the decision.
Weston told AFP that while Trump's actions were "somewhat a positive for coal stocks and some of those old-world energy names", the withdrawal was already factored in by investors and was also unlikely to impact earnings forecasts.
"There's not going to be radical changes from him walking away. I just don't think, if you are an analyst right now, that you're going to do much to revise the earnings of these companies."
The pound was on traders' minds with less than a week until Britain's general election, which has been thrown into uncertainty following a surge in the opposition Labour Party.
Sterling had risen in recent weeks on the prospect that Prime Minister Theresa May's ruling conservative party would win a landslide, giving her a stronger hand in Brexit talks.But the currency has fallen with the government's poll numbers on fears Britain could end up with a less favourable exit deal.
In early European trade London and Frankfurt each rose 0.4 percent while Paris added 0.5 percent. AFP