---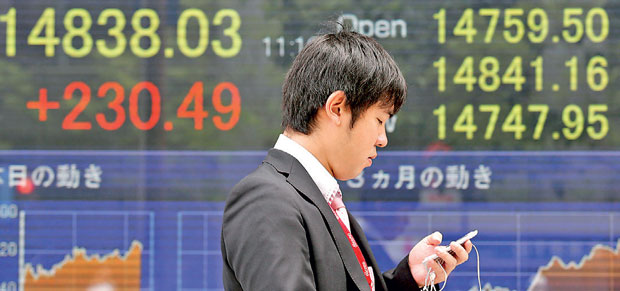 Tokyo's Nikkei index closed up 0.6 percent, with the yen weakening after the Bank of Japan refused to alter its accommodative monetary policy
AFP: Asian markets mostly rose yesterday following a sell-off the previous day, while the dollar and pound extended gains on growing expectations of a hike in US and British interest rates.
Equity traders have suffered a fraught week as the crisis engulfing Donald Trump picks up pace, technology firms tumbled from recent highs and energy plays were hammered by plunging oil prices.
But they shifted back into buying mode in early trade, with Tokyo boosted by a surge in the dollar against the yen.
The greenback has rallied around two percent against the yen from lows touched before the Federal Reserve on Wednesday lifted borrowing costs and indicated further tightening of monetary policy.
The Central Bank also outlined plans to suck cash out of the financial system by scaling back the bonds on its balance sheet.
Tokyo's Nikkei index closed up 0.6 percent, with the yen weakening after the Bank of Japan refused to alter its accommodative monetary policy.
However, it is facing pressure to provide some guidance on its future plans as the economy improves and concerns grow about a widening gap between US and
Japanese rates.
Dealers will be keeping a close eye on BoJ governor Haruhiko Kurada's news conference later in the day.
Hong Kong added 0.3 percent a day after tumbling more than one percent, while Sydney and Singapore each put on 0.2 percent. Wellington and Taipei also saw healthy gains but Shanghai ended off 0.3 percent. Seoul was narrowly higher.
The pound extended gains after surging on Thursday in response to the surprise news that three out of the Bank of England's eight policy board members had voted for a rate hike as inflation continues to rise on the back of increasing import costs.
Sterling had fallen below US$1.270 before the decision but bounced to as high as US$1.2795 afterwards before edging back slightly. However, it remains pressured by political uncertainty following last week's election that saw the ruling Conservatives of Prime Minister Theresa May lose
their majority.
Analysts said the post financial crisis era of ultra-low rates and easy money was coming to an end as central banks around the world began to tighten the belt.
"The markets continue to digest the latest signals from the Federal Reserve Board who are now actively discussing how and when to pare back the balance sheet," said Stephen Innes, senior trader at OANDA,
in a note.
"But just as significantly the investors are now coming to grips with the notion that perpetual global Central Bank gravy train may be coming to an end." In early European trade London rose 0.4 percent, Paris rallied one percent and Frankfurt jumped 0.5 percent.