---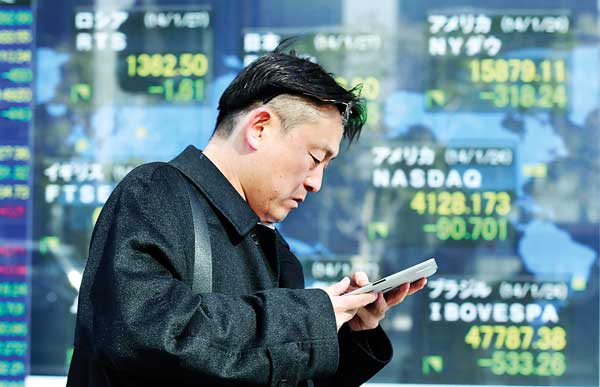 AFP - Asian stock markets mostly retreated on profit-taking yesterday, tracing losses in New York and Europe, although crude prices rallied again on fresh hopes for a deal to limit output. However, Tokyo's Nikkei saw a late afternoon burst to end sharply higher for a fourth straight session as the yen plunged on a report the Bank of Japan is considering help for financial groups hit by its negativerate policy.
The broad losses across Asia came at the end of a week that started with sharp selling in response to news of the collapse of talks to limit global crude production. But optimism over the Chinese economy and soothing comments from the US that interest rates will not go up before June have helped push world markets to multi-month highs. Traders decided to take their cash off the table yesterday. Hong Kong closed down 0.7 percent and Seoul ended 0.3 percent off while Sydney shed 0.7 percent.
There were also losses in Singapore, Wellington and Taipei. But Shanghai ended 0.2 percent higher having lost almost three percent in the previous two sessions. The Nikkei jumped 1.2 percent as the yen slipped and banks welcomed the Bloomberg News report on help for financials. It said the BoJ was looking at offering negative rates on some loans. Masahiro Ichikawa, a senior strategist at Sumitomo Mitsui Asset Management, said this would mean banks receive money for borrowing from the Central Bank.
"It's a plus for bank profitability as it eases the burden from the BoJ's negative interest rates," Ichikawa added. The BoJ shocked markets in January after it adopted the negative rate policy, effectively charging banks to store excess reserves in its vaults. On currency markets the dollar jumped to 110.27 yen after the report, well up from the 109.40 yen earlier in Tokyo and the 109.50 yen seen late in New York.
The euro rose to 124.61 yen from 123.60 yen in US trade. On Thursday, European Central Bank boss Mario Draghi sought to reassure markets over the eurozone economy by saying it would unleash further stimulus measures "if warranted" to kick-start growth and inflation. He also dismissed German criticism that its negative interest rate policy is hurting savers and banks, and insisted its benefits would take time to unfold.
Oil prices rallied more than one percent in Asia, building on a strong week, after OPEC secretary general Abdalla El-Badri said the group of exporters would again consider talks on freezing output and probably hold further negotiations with other nations. Reports that Iraq is pushing for new talks after the collapse of the Doha gathering on Sunday also provided strong support. The Doha meeting fell apart after kingpin Saudi Arabia pulled out owing to bitter rival Iran's refusal to impose output limits. Tehran said it was still in the process of raising production after the removal of nuclear-linked Western sanctions in January.
In Tokyo, car maker Mitsubishi dived as much as 13.6 percent, continuing its losses after admitting it cheated on fuel-efficiency tests. The firm has now lost more than 40 percent -- or about $3.2 billion of its market capitalisation -- since revealing unnamed employees rigged the tests. The decline is the worst since the firm's 1988 listing. In early European trade London fell 0.4 percent, Frankfurt lost 0.6 percent and Paris gave up 0.1 percent.