---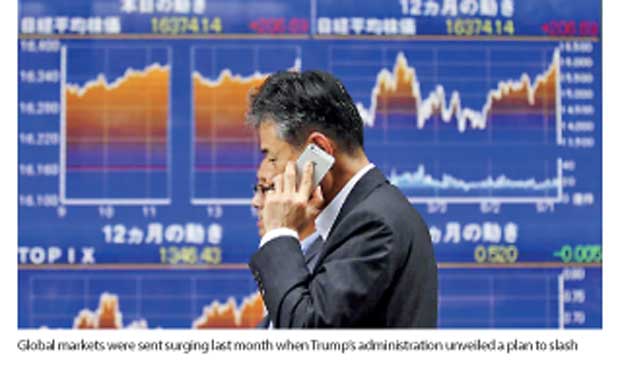 AFP: Asian markets fell yesterday as traders fret over the outlook for Donald Trump's much-vaunted tax-cut plans while profit-takers cashed in after the latest rally.

However, Shanghai reversed early losses as investors welcomed news that China would further open its financial sector to foreign firms.

The losses followed a broad retreat on Thursday, which started when Tokyo's Nikkei saw a two percent gain in the morning reverse to a 1.7 percent loss at one point.

While investors will be keeping an eye on a meeting of Asia-Pacific leaders, including Donald Trump and Xi Jinping, in Vietnam this weekend their main focus is on Washington, where Republican lawmakers are struggling to agree a fiscal reform bill.

Global markets were sent surging last month when Trump's administration unveiled a plan to slash taxes across the board in a bid to fire up the US economy.

But in recent days it has emerged Republicans have differing ideas about how to push them through, with senators calling for a one-year delay to corporate tax cuts, among other things.

"The delayed phase-in of the corporate tax cut, an increase in the repatriation tax, as well as other walk-backs have knocked stocks in the US and across the globe lower," said AxiTrader chief market strategist, Greg McKenna.

House Speaker Paul Ryan insisted the details will be "ironed out" between the two competing plans but analysts said there are worries the overhaul could succumb to party infighting in the same way Trump's healthcare reforms were killed.

"Given the apparent differences between the two bills, the implementation of tax reform before the end of the year looks pretty challenging and achieving it before Thanksgiving (November 23rd) seems close to impossible," said FX Strategist at National Australia Bank, Rodrigo Catril in a commentary.
The uncertainty has dug into the dollar's recent strength, particularly against the yen, which has hurt Japanese exporters. The Nikkei was down 0.8 percent, having chalked up a 26-year high earlier in the week.
Other markets were also in the red, with Sydney and Seoul each shedding 0.3 percent and Singapore 0.1 percent. Wellington, Taipei, Bangkok, Jakarta and Manila also suffered.

However, Shanghai performed a U-turn to end up 0.1 percent after the financial markets announcement.

Hong Kong ended down 0.1 percent, unable to maintain an early afternoon rally but mainland insurance firms were the big winners. Ping An jumped 3.2 percent and China Life Insurance added 0.7 percent.

China's vice Finance Minister Zhu Guangyao said foreign firms will be allowed to own as much as 51 percent of shares of tie-ups in securities, funds and futures industries, instead of the current 49 percent limit, according to the official Xinhua news agency. The limits will be phased out in three years.

The news comes after years of complaints by companies particularly from the United States and Europe that they were being shut out of sectors.

It will also be seen as a victory for Trump, who finished a state visit to China yesterday during which he railed against "very one-sided and unfair" Sino-US trade relations.

Oil prices eased slightly but analysts say they could press higher on growing tensions in the crude-rich Middle East after Saudi Arabia accused Iran of "direct military aggression" over a missile attack near Riyadh by Tehran-backed Yemeni rebels.

In early European trade London rose 0.1 percent, Paris was flat and Frankfurt put on 0.2 percent.