---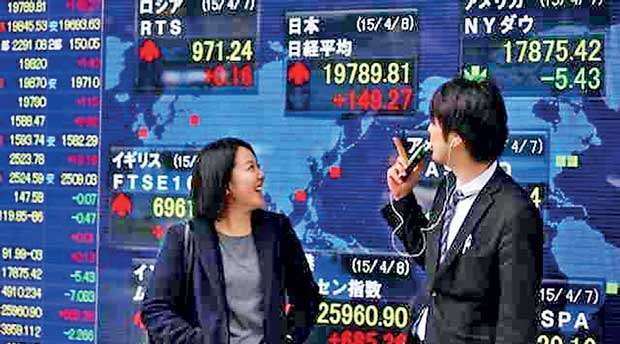 HONG KONG (AFP) - Asian markets fell yesterday after a broadly positive week as traders await the latest developments in the China-US trade row, while the Turkish lira briefly dived 12 percent to fresh record lows buffeted by a diplomatic row with Washington.

After last week's turmoil, the past five days have seen investors a little more positive as they took in stride tit-for-tat threats of tariffs from the world's top two economies, though the fears of an all-out trade war are keeping everyone on their toes.

However, yesterday Hong Kong fell one percent after a four-day win streak.

Tokyo shed 1.3 percent despite data showing the Japanese economy grew more than expected in the second quarter. The outlook was dimmed by concerns about a trade war with the United States.

Sydney was down 0.3 percent, Singapore shed 1.3 percent and Seoul dropped 0.9 percent. Taipei, Mumbai, Manila and Bangkok also lost ground. However, Shanghai ended the day marginally higher.

The losses followed a broadly negative lead from Wall Street.

With few major catalysts in the trade stand-off, focus is now on the release later in the day of US consumer price index data for July, which will give an idea about price pressures across the country and help guide the Federal Reserve in its interest rate plans.

The central bank is tipped to lift borrowing costs twice more this year, having already hiked two times so far as Donald Trump's massive tax cuts kick in and the economy continues to hum along.
Expectations for further hikes have sent the dollar rallying and the unit maintained its strength yesterday after a top Fed official usually considered dovish indicated he would back more increases.

"If the US consumer prices data for July confirms a steady rise in inflation, it will support the dollar on the back of speculation that the Federal Reserve will hike interest rates again in September," said Kengo Suzuki, forex strategist at Mizuho Securities.

Chicago Fed President Charles Evans backed "somewhat restrictive" rate levels to offset the fiscal stimulus, citing the possibility of inflation hitting 2.2 percent. Evans had previously voted against hikes on concerns that inflation would not hit the Fed's two percent target.

"When doves are hawkish we have to take a little notice," said Greg McKenna, chief market strategist at AxiTrader.

While the dollar was struggling against the safe-haven yen owing to the trade uncertainty, it was up against most other units sitting at a more than one-year high against the pound. The euro tumbled on concerns a crisis in Turkey could spill over into Europe.

The Turkish lira plunged 12 percent to a record low at one point on tensions between Ankara and Washington over the detention of a US pastor. The losses extended Thursday's drop as high-level talks seeking to slacken tensions with the US produced no apparent breakthrough.

The lira recovered slightly but has lost about 50 percent since the turn of the year.

At the same time, the Turkish economy under President Recep Tayyip Erdogan is showing signs of overheating, with the country running a large current account deficit that makes it heavily dependent on foreign capital inflows.

"The backdrop to endemic lira weakness is of course the familiar one of an economy suffering rising inflation and a burgeoning balance of payments crisis alongside a central bank that has in effect been stripped of much of its independence since Erdogan was re-elected in June," Ray Attrill, head of forex strategy at National Australia Bank, said in a note.

The South Korean won and Australian dollar were down about one percent against the dollar while Indonesia's rupiah and the Mexican peso were also well off.
The Russian ruble tumbled again and is now five percent down since the US on Wednesday hit Russia with new sanctions over its alleged involvement in a nerve agent attack in Britain.

In early trade, London fell 0.4 percent, Paris shed 0.9 percent and Frankfurt was down 0.8 percent.