---
The era where exports pushed a nation's economic growth has begun to slowly disappear as this phenomenon has now become evident from the recent export growth statistics of Asia Pacific economies, which have less than halved from their heyday of globalization, an international economist warned. According to Dr.Ganeshan Wignaraja, Advisor to the Economic Research and Regional Cooperation Department of the Asian Development Bank (ADB), during the hyper-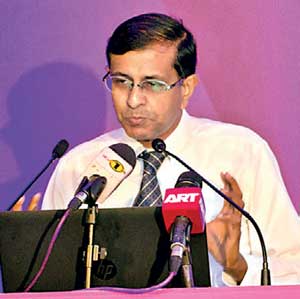 globalization era, exports grew by twice the rate of a country's Gross Domestic Product (GDP) but stressed trade, particularly exports, would be a less of a driver of growth in the foreseeable future. Statistics show that during the decade since 2000, exports in Asian economies grew by 1.5 times of GDP, which later slowed down to 0.7 times during 2010 -2015 and further down to 0.3 times in 2016, demonstrating the less of a role played by exports in a country's growth story in recent times.
"My basic take is that, this is not the end of export-led growth for the foreseeable future but certainly trade has slowed in the region and globally. Although Sri Lanka is slightly different to the trend, which is an interesting opportunity for it, to succeed, we have to address certain constraints," Dr. Wignaraja told a forum in Colombo organized by Advocata Institute, an independent public policy think tank.
According to him, slowdown in exports was a combined effect of weak global demand for imports after the global financial crisis, rebalancing of the Chinese economy towards domestic, consumption-driven model, slowdown in global supply chains and the creeping of trade protectionism by way of non-tariff barriers.
Non-tariff protectionism by way of anti-dumping regulations have risen around four fold since the beginning of the 2000 decade in developing Asia and Dr.Wignaraja expects such barriers could be more pervasive in the future under the Donald Trump administration.
Quoting latest International Monetary Fund (IMF) data, he said growth in exports in the developing Asia had slowed down to 5 percent while in China and in the rest of Asia, the growth has also slowed to a mere 4 percent, around 18 percent and 11 percent, respectively, during the 2000s—the so called hyper-globalization era.
China's December trade data released last Friday showed in fact that exports had come down by 6 percent from a year earlier despite the yuan's massive 6 percent depreciation against the dollar in 2016.
According to The Wall Street Journal, China's net exports accounted for around a third of economic growth two decades ago at the height of globalization when the Chinese economy used to grow double digits.
"All of these are much slower than before, hence my point is that things are going to be much more difficult than before," Dr. Wignaraja cautioned.
Meanwhile, according to IMF estimates, Sri Lanka's exports are estimated to have grown by 8 percent in 2016, increasing from 3.4 percent in 2015.
However, the IMF forecasts 4.5 percent growth for Sri Lanka in 2017, much lesser than what the country may have achieved in 2016.
The data could come as a blow to policy makers at home as they want to bolster Sri Lanka's growth through an investment-led exports strategy, assisted by its liberal economic policies. Nevertheless Dr. Wignaraja was not all doom and gloom over the prospects of exports going forward as he was upbeat over the economic growth in the Unites States under the incoming Trump administration due to lower taxes and higher fiscal spending, which will boost economic growth and suck in more imports to the US. He further said the shifting paradigm in the China's economy could well open up opportunities for the Asian region, including Sri Lanka, as China was moving up in the global value chains towards higher value addition through innovation and technology.
"The People's Republic of China is going to shed some of its labour intensive industries such as textiles and garments, auto and electronic and that has also started happening in ASEAN countries such as Vietnam, Indonesia and even Bangladesh," said Dr. Wignaraja, adding that Sri Lanka could potentially undertake some of these manufacturing as to fill the void.
However, he said Sri Lanka's supply side factors acted as a barrier albeit improved from the past, to engage in competitive trade with the world as Sri Lanka has serious productivity and competitiveness issues with a fairly rigid bureaucracy.
While Sri Lanka's infrastructure and connectivity have improved, there is much more to be done and the interest rates remain very high compared to other developed countries, which potentially discourages business startups.
Hence, Dr.Wignaraja urged for second generation economic reforms in cutting down red tape, reforms in education and skills, labour, land etc. to deliver price, quality and delivery as these have now become the rules of the new era of slowing exports.
Finally Dr. Wignaraja asked the policy makers to follow the right sequence in getting into trade deals with built-in domestic structural reforms and safety nets for losing industries prior to rushing into sign trade pacts.