---
Sri Lanka's inflation in the capital Colombo rose by 6.9 percent during the 12 months to April, slowing down from a multi-year high of 7.3 percent recorded in March despite being a festive month, according to the Census and Statistics Department data.
However, on a month-on-month basis, the inflation rose, mainly driven by higher food and beverage prices as the demand grew faster.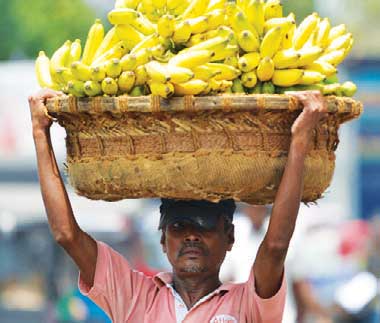 In recent months, inflation has accelerated due to both the supply-side constraints and demand side pressures.
The prolonged drought conditions, which predominantly affected the main harvesting regions in the north and eastern parts of the country, has significantly lowered the paddy harvest as only 35 percent of the cultivable land had been farmed.
This pushed the prices of rice in the market forcing the government to import rice and impose maximum retail prices on traders.
Meanwhile, the Central Bank has been printing money to repay government debt. This will artificially keep the interest rates lower for sometime creating billions of rupees of cheap bank credit, which in turn leads to demand-driven inflation.
In a proactive measure to contain further inflationary pressures, the Central Bank in March raised its benchmark interest rates by 25 basis points— the second time in nine months—as the monetary base was expanding higher than expected.
The core-inflation—the change in the Colombo Consumer Price Index (CCPI) barring the most price-volatile items such as food and energy—has increased by 6.8 percent during the 12 months to April, slowing down from 7.3 percent in March.
April's inflation was mostly driven up by the rise in food prices as the prices of chicken, coconut and vegetables continued their upward momentum. The non-food prices also rose albeit slowly during April.
In March Sri Lanka's national prices rose by 26 months high to 8.6 percent partly due to base effects.
The moving average inflation for April under CCPI was 5.3 percent, up from 5.0 percent in March.
Further price pressures cannot be ruled out as the rupee is increasingly coming under pressure as the economy is highly dependent on imports.
Unless the planned foreign borrowings and the envisaged inflows from the Hambantota port sale are materialized, the situation could get further aggravated given the country's forthcoming foreign debt maturities.