---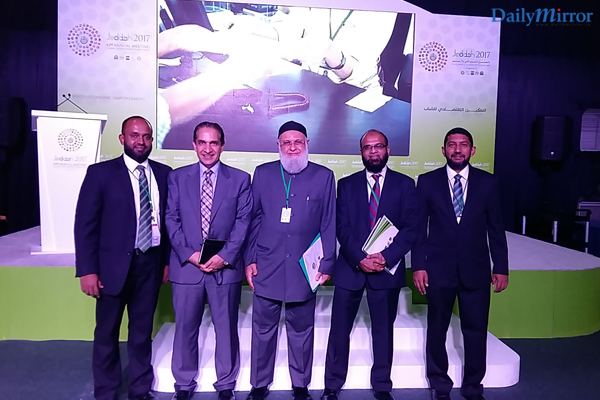 Amãna Bank representation at the Innovation Exhibition : (Left to Right) Vice President – Retail Banking and Marketing Siddeeque Akbar, Group Chairman and CEO of Path Solutions Mohammed Kateeb, Chairman of Amãna Bank Osman Kassim, CEO Mohamed Azmeer and Head of Strategic Planning and New Product Initiatives Fazly Marikar
In recognition of its innovative financial solutions, Amãna Bank was recently invited to take part at the Innovation Exhibition organized by the Islamic Development Bank (IDB) which was held on along with the 42nd Annual Meeting of IDB Board of Governors. The exhibition held in Jeddah, brought together several projects from IDB member countries that are innovative, inclusive and that have impacted the livelihoods of people.
Amãna Bank's presence at the exhibition despite Sri Lanka not being a member country of IDB, highlights the impact Amãna Bank has had on the global Islamic finance industry through its innovative financial solutions, which includes the Bank's award winning Gold Certificate Financing solution.
The Innovation Exhibition saw over 35 innovative projects representing 25 countries being displayed, where each project had to highlight the challenge it was addressing, the innovation itself and the impact it has had on the community it is serving.
Exhibiting its Gold Certificate Financing solution, Amãna Bank was able to create awareness of its equivalent alternative to conventional pawning which was introduced in line with the local laws and regulations specific to pawning within the Sri Lankan context. In demonstrating its impact, the Bank showcased the number of individuals who have benefitted through this financing solution as well as the recognition it received by being listed in the prestigious Global Finance Magazine's Innovator Index. The Bank was also given an opportunity to showcase an onstage presentation and a video to the exhibition visitors.
Commenting on its participation, Chief Executive Officer Mohamed Azmeer said "We are honoured to have been invited to IDB's Innovation Exhibition and have our Gold Certificate Financing solution being showcased alongside many other innovative solutions that have excelled in improving lives of people. Introduced as part of the Bank's overall strategy towards financial inclusion, the Gold Certificate Financing solution also addresses the economic needs of the country to facilitate convenient credit at grass root levels to help fund personal as well as other micro industries. The exhibition was a great platform to learn from each other's innovation and how the same can be applied to solve the challenges in their respective countries. "
Amãna Bank is the country's first Licensed Commercial Bank to operate in complete harmony with the globally growing non-interest based banking model. With the mission of Enabling Growth and Enriching Lives, the Bank reaches out to its customers through a growing network of 28 branches and 3800+ ATM access points and has introduced a bouquet of customer conveniences such as Internet & Mobile Banking, Debit Card with SMS alerts, Saturday Banking, Extended Banking Hours, 24x7 Cash Deposit Machines and Banking Units Exclusively for Ladies.
Fitch Ratings, in October 2016, affirmed the Bank's National Long Term Rating of BB(lka) with a Stable Outlook. The Bank was recognized as the Best 'Up-and-Comer' Islamic Bank of the World by 'Global Finance Magazine' at the 18th Annual World's Best Banks Award Ceremony held in Washington DC, USA. The Bank was also bestowed the coveted title 'Islamic Finance Entity of the Year 2016' at the inaugural Islamic Finance Forum of South Asia Awards Ceremony