---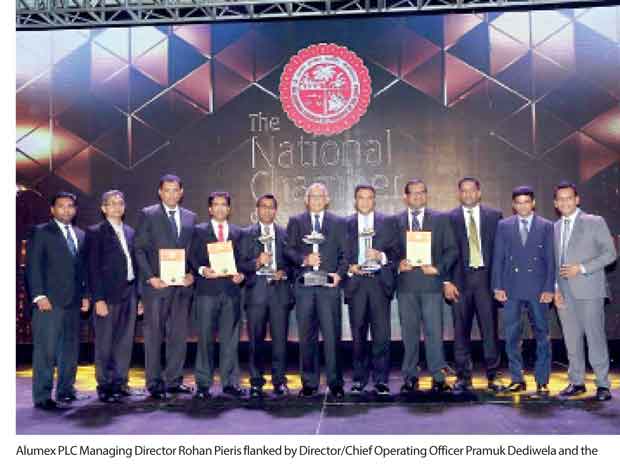 Sri Lanka's leading fully-integrated aluminium profile manufacturer, Alumex PLC extended its dominant position in the local market, winning three awards, including the Overall Silver Award for Business Excellence at the recently concluded National Business Excellence Awards (NBEA) 2017.

Rounding out Alumex's crop of awards at this year's NBEA, the company was also crowned winners in both the Manufacturing and Engineering sector and the Large Category, in recognition of the company's outstanding achievements in maintaining and enhancing standards through the adoption of international best practices to suit local needs.

"The Hayleys Group of companies has long maintained a vibrant tradition of business excellence and the recent performance of Alumex at the National Business Excellence Awards 2017 stands as further proof of this remarkable legacy. By displaying such resounding strength and capacity for innovation, leadership, and good governance, Alumex has once again proven its firm commitment to upholding the values of the Hayleys Group. In that regard, we congratulate the management and employees of Alumex for the unwavering commitment to setting new operational and performance benchmarks in the Sri Lankan manufacturing sector," Hayleys PLC Chairman and Chief Executive and Alumex PLC Chairman Mohan Pandithage stated.

Organised by the National Chamber of Commerce of Sri Lanka (NCCSL), the NBEA are among the most prestigious accolades presented to leading members of the Sri Lankan business community. Having launched in 2004, the NBEA has continuously grown in stature, as a platform for recognising the very best of the Sri Lankan corporate sector.

"It is truly an honor to have Alumex be presented with such a distinguished accolade and I wish to thank our senior management and valued team of employees for their unwavering commitment to setting new operational and performance benchmarks for the Sri Lankan manufacturing sector," Alumex PLC Managing Director Rohan Peris stated.