---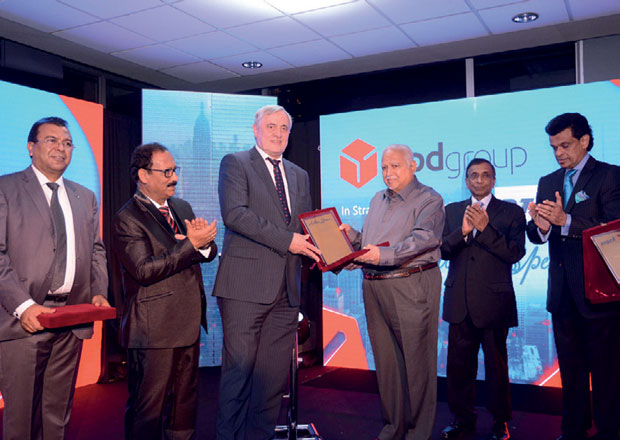 Deshamanya Harry Jayawardena exchanges a memento with GeoPost SA Executive Vice President Arnold Schroven in the presence of (from left) DTDC Express Director Suresh Bansal, DTDC Express Chairman and Managing Director Dr. Subhasish Chakraborty, GeoPost SA Executive Vice President Arnold Schroven, Aitken Spence PLC Chairman Deshamanya Harry Jayawardena, Aitken Spence PLC Deputy Chairman and Managing Director J.M.S. Brito and Aitken Spence Maritime and Cargo Logistics Chairman and CEO Dr. Parakrama Dissanayake
Pic by Pradeep Pathirana
By Zahara Zuhair
The Aitken Spence group recently entered into a partnership with France's DPD Group, the second largest international parcel delivery network in Europe, which is now available in Sri Lanka and the Maldives.
DPD Group is the international delivery network of GeoPost SA, a subsidiary of Le Groupe La Poste in France, and delivers to 230 countries globally. DPD Group has a strategic alliance with India's largest and most preferred express network, DTDC Express, since July 2013, where they own a 42 percent stake.
At the launch ceremony, Aitken Spence Maritime Ltd Chairman Dr. Parakrama Dissanayake said that they have embarked on a partnership to provide seamless services to their clients in an industry that is bound to witness phenomenal growth.
He noted that the global currier express parcel market reached approximately US $ 270 billion in 2016 and it is expected to reach US $ 350 billion in 2020. "Now what is driving this growth is e-commerce. People buy goods and services online. Retail e-commerce reached US $ 1.9 trillion in 2016 and expected to increase up to US $ 4 trillion in 2020. Asia-Pacific, where Sri Lanka is also located with India, is expected to reach US $ 2.7 trillion by 2020 and the envisage growth this year is 31 percent. This will drive the growth of currier parcel delivery," he said.
He said that with 60,000 experts and a network of over 26,000 pick-up points, DPD Group delivers 3.6 million parcels in 230 countries daily. He also said that Aitken Spence has been in business for global parcel currier express parcel delivery well over 35 years.
Noting that it is a historical day as the neighbours are getting together, Aitken Spence PLC Group Chairman Harry Jayawardena said that South Asia must get together and move forward. "If we trade among ourselves, we don't need Europe. The business is there. We are now better than any other country in the world; we have peace. Today everyone is looking at Sri Lanka. India specially should take a leap; culturally, politically, business wise we all are similar. I don't see any reason why we should not enhance our activities within our neighbours," he said.
DTDC Courier and Cargo Ltd Chairman and Managing Director Dr. Chakraborty said that as they consider Aitken Spence equal to India's TATA, this partnership with DPD will create history in Sri Lanka. Global Parcel Delivery (Pvt.) Ltd, a subsidiary of Aitken Spence PLC, will be representing DPD Group and DTDC Express in Sri Lanka to provide its Sri Lankan and Maldivian clients with state-of-the-art express delivery solutions.
Global Parcel Delivery (Pvt.) Ltd maintains 14 branches and franchisees islandwide and provides express export, imports and receiver pays express services.
The event also saw the attendance of tourism Development and Christian Religious Affairs Minister John Amaratunga, Ports and Shipping Minister Arjuna Ranatunga and other diplomats.