---
Sri Lanka's diversified conglomerate, Aitken Spence PLC, more than doubled its net profit for the quarter ended March 31, 207, (4Q17), amply helped by the re-commissioning of its thermal power plant and maritime operations, the interim financial accounts filed with the Colombo Stock Exchange showed.
The group reported consolidated earnings of Rs.3.03 a share or Rs.1.2 billion for the quarter under review, an increase of 103 percent year-on-year (YoY). The group revenue also rose 94 percent YoY to Rs.15.4 billion.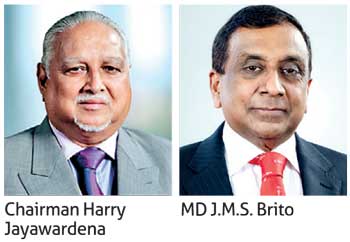 The group's 100 mega watt power plant in Embilipitiya renewed its power purchase agreement with the state-run Ceylon Electricity Board in April last year, as a result of severe drought experienced by Sri Lanka up to early months of this year.
The significant drop in hydro power generation compelled the government to reverse a policy decision it had taken to discontinue thermal power purchasing from private power developers at high prices. Commenting on the Group's inclination towards making mid to long term investments Aitken Spence Chairman Harry Jayawardena said they have been quick to identify new investment opportunities where they can diversify to remain relevant in the present business context.
"Catalysed by our investment model, we seek strategic partnerships with global partners that would provide a competitive edge in the markets we intend to serve. At present, we have identified tourism and maritime and logistics as key growth sectors, and have made significant strides in the current financial year to expand the Group's footprint in these selected business domains," he said.
Meanwhile, for the year ended March 31, 2017 (FY17), the group reported earnings of Rs.7.12 a share or Rs.2.9 billion, an increase of 43 percent YoY. The revenue for the year also rose 77 percent YoY to Rs.46 billion.
The strategic investments segment of the group, which contains its power generation operations, made an after-tax profit of Rs.1.0 billion against Rs.510 million a year ago over a revenue of Rs.16 billion, up from Rs.4.1 billion a year ago.
The tourism sector, which accounts for nearly 50 percent of the group's revenue recorded an after-tax profit of Rs.1.45 billion, down from Rs.2.3 billion YoY. The segment's revenue however rose to Rs.20.5 billion from Rs.13.7 billion YoY. Aitken Spence owns and operates hotels and resorts in Sri Lanka, India, Maldives and Oman.
The group's maritime logistics sector posted a post-tax profit of Rs.1.4 billion up from Rs.1.0 billion YoY on a revenue of Rs.8 billion up from 7.3 billion YoY.
Aitken Spence has extensive operations at Fijian ports and also is the major shareholder of Sri Lanka's top maritime campus. The group's services sector, which mainly consists of Otis elevator agency, MMBL money transfer operations and Heritage Grove, the group's luxury country home project, recorded an after-tax profit of Rs.118 million down from Rs.124 million YoY. The segmental revenue however rose to Rs.1.4 billion from Rs.903 million.
"Uncertainty becoming the new normal for many of our businesses, our purpose for the year was not to be distracted by it, but rather look for opportunities that would take the group to new heights," Group Managing Director J.M.S. Brito said.
Harry Jayawardena-controlled Melstacorp PLC held 45.12 percent of Aitken Spence as at March 31, 2017 followed by 16.25 percent stake by Rubicond Enterprises Limited, another entity believed to be owned by Jayawardena.
State-run private sector pension fund, Employees' Provident Fund (EPF) held 5.07 percent stake.