---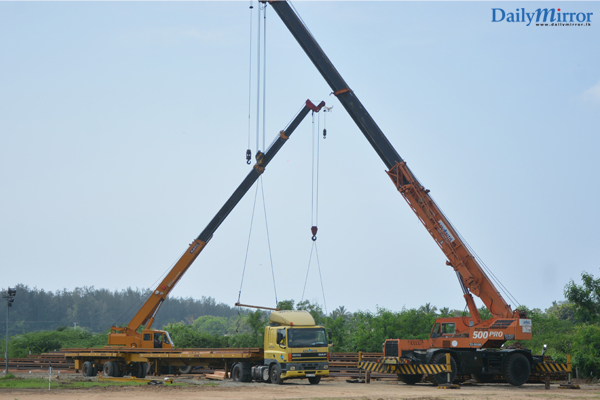 Transportation has always played an important role in the prosperity of a nation. As Sri Lanka takes its first steps onto the world stage with a focus on ambitious economic goals, a solid transportation infrastructure will continue to be key. An improved transportation infrastructure allows for the easy movement of goods, provides people with greater access to essential facilities and employment, and opens up previously inaccessible areas of the country for tourism. All of this equates to national economic growth and the acceleration of economic development in rural areas.
This is why the Southern Railway project is essential for the future of the nation as railways in particular provide a cost effective mode of transportation for goods and passengers alike. The first phase of this project, from Matara to Beliatta, will consist of a 26.75km long railway track.
One of the major hurdles of constructing the railway has been the transportation of the massive rails from the Hambantota Port to its destination along the Mattara-Beliatta track. The 25 meter length and 1.5 metric ton weight of each rail means specialized equipment and logistical expertise will be needed to transport them through the narrow road network of the country.
Providing these necessary skills and equipment to the project are Advantis Projects, a subsidiary of the Hayleys Advantis Group, renowned for their expertise in transporting oversized and specialized cargo. As a member of the Global Project Logistics Network (GPLN), Advantis Projects has the ability to work in partnership with a network of project logistics professionals in meeting the needs of any client, whilst ensuring that all projects are managed by local experts. Additionally, their array of specialized equipment allows them to cater to a myriad of requirements and tackle the hardest logistical situations.
To transport the rails Advantis Projects utilized an 80ft specially modified extendable trailer with heavy duty pullers and over 25 professionals and trade specialists. They also used their 4 acre storage facility near the Hambantota Port to temporarily store the rails. Ultimately, Advantis Projects conducted route surveys and road selections; liaised with local authorities; and provided all other end-to-end logistics services to ensure that the rails reached their destination on time for the project.
Utilizing the latest technology and the most modern methods Advantis Projects was able to securely transport the client's goods safely and in record time. This was in part thanks to the detailed simulations and safety briefings their team received beforehand to ensure the process ran smoothly from start to finish.
Backed by Hayleys Advantis Limited, the transportation and logistics arm of Hayleys PLC, Advantis Projects has continuously expanded its service offering and is recognized as the market leader in providing project logistics solutions to local and international contractors who are involved in large-scale infrastructure development projects. The company brings over 16 years of experience and a proven track record that has been driven with technology innovation and adherence to industry best practices.