---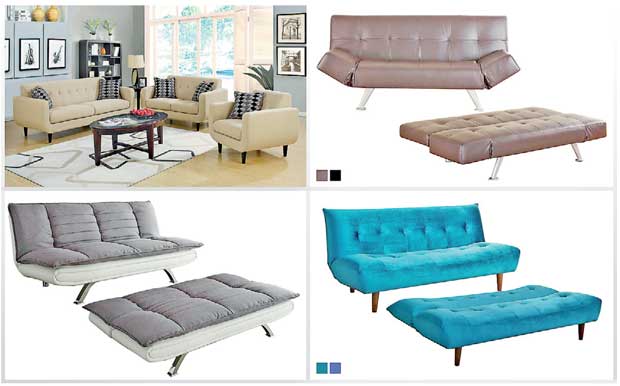 The unique Otello collection at Abans provides the perfect toxic-free solution for homeowners who desire both modern, eclectic style and extra storage space in their living rooms.
The Otello collection is solely comprised of natural materials as well as solid treated wood that do not emit any form of noxious gas common with conventional melamine furniture, making this range not just highly durable, but safe and healthy enough for your home. In addition, the Otello collection features a wide variety of avant-garde, contemporary designs exclusively from Abans, which can meet any homeowner's preferences.
Additionally, if you are looking for living room sets that take up less space in your living room and double up as accommodation for guests, choose from Abans' innovative range of sofa beds that can just turn into a bed at the simple click of a button. Featuring sleek, beautiful designs while providing that extra convenience, comfort, and ease, Abans' sofa beds are perfect for individuals who especially have small homes, apartments, or limited space, and enjoy frequent visits from extended family and friends.
You also do not have to compromise on comfort and durability to achieve ease and convenience. All sofa beds possess thick layers of padding along with a high-quality spring mechanism that provide exceptional comfort value. Plus, the couch cushions in each sofa bed contain high-density foam that keeps them firm and elevated, thereby, increasing the longevity of your unit. Additionally, the frames for all sofa beds are constructed using solid treated wood, making them highly resistant to damage from insects, mold, and marine corrosion while providing you with quality furniture that lasts for years.
Further, to keep up with current trends in interior design, Abans has recently unveiled the European Style Sofa Collection 2017 that imparts a chic, refined, and unified look to your living room. These sofa sets feature a variety of modern and trendy designs popular in Europe along with high-quality upholstery material that exudes a luxurious feel.
To enhance durability, resiliency and comfort, this collection is also equipped with high-quality polystyrene foam in the couch cushions, advanced tempered steel spring technology, and polyester multilayer Dacron wrap that allows for higher seating quality.
Moreover, all sofa sets come in an exclusive array of stunning colours and patterns that are solely available at Abans, letting you compose a one-of-a-kind living room design that will stand out from the rest. ABANS gives you the choice of a 3 + 2 + 1 sofa set arrangement for your living room, allowing for a more sophisticated, artistic home environment. You can further select from a wide assortment of colour palettes and sizes to conform with the specific theme that you have set for your home. Also, Abans allows you to pick and choose from three options of durable, stylish upholstery to furnish your sofa set, namely, Micro-Fabric, Fabric, or PVC.
Unlike other brands, ABANS offers you the opportunity to obtain exquisite, unique, and durable furniture at amazingly affordable prices. You will also receive an unparalleled shopping experience specifically tailored to your homeowner needs, where you can simply contact the nearest ABANS showroom and attain guidance from our team on how to refurbish your home.