---
On a night that saw the gathering of the most esteemed figures in Sri Lankan society under one roof, Aban Pestonjee, the Chairperson and Founder of the Abans Group of Companies was named Sri Lanka's Entrepreneur of the Year 2017 at the Derana Sri Lankan of the Year Awards hosted on September 27th at the Colombo Hilton.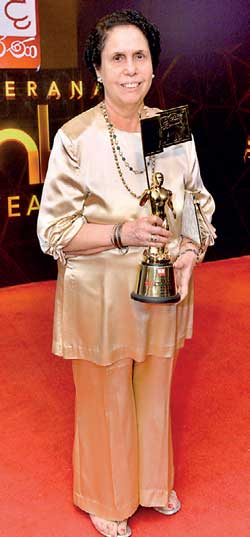 Working out of her home garage, Pestonjee started her humble beginnings in 1968, where she managed to sell and restore used electronic appliances that she carefully sourced from auctions. Her motivation stemmed from her own experiences as a mother and homemaker where she wanted to provide appliances to housewives that added an ease of convenience to their day-to-day chores.

In 1978, when Sri Lanka emerged into an open economy Pestonjee took the plunge and began engaging in importing products when she observed an increase in the consumer's demand for quality global brands. Her persistence led her down the path of acquiring the first agency namely, Electrolux, eventually paving the way for numerous world-renowned brands that followed, leading to the empire that we see today.

The Abans Group of companies is divided into 5 strategic business categories comprising of retail, services, logistics, manufacturing, and real estate and infrastructure. With an island wide network that spans over 400 showrooms and more than 16 service centres, Abans is a story of innovation, willingness to take risks, courage, ethics and personalized customer care that continues to evolve through the generations.

Aban Pestonjee has successfully become a role model to individuals encouraging everyone to practice the three rules she places the highest value on, "honesty, hard work and perseverance". A pioneering figure in the world of business, recognized for her achievements internationally, she continues to excel in her life, taking the company to new heights with their latest mixed-use development project, Colombo City Centre. An international mall slated to open in the first quarter of 2018, a business hotel and upscale residences are all part of this three-tier, multi-dimensional project which will undoubtedly be one of its kind in the country.