---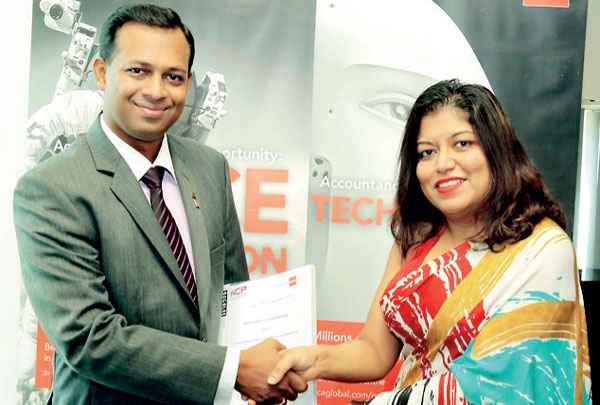 Head of ACCA Sri Lanka Nilusha Ranasinghe and the CEO of HCP Chaaminda Kumarasiri at the signing of the MOU
Recognizing the value of promoting mutual co-operation for the advancement of the accountancy profession in the country, ACCA recently signed a MoU with The Human Capital Partner (HCP), a placement and development partner of human capital.

HCP was founded by an experienced finance professional with a passion for developing the finance professionals and to uplift the standing of the profession in the country .Whilst HCP's primary focus is on finance professionals, they have also designed unique programs to cater to the needs of all categories of employees in an organization and aspire to be The Human Capital Partner of organizations in driving them towards excellence by inspiring and empowering their human capital.
The Memorandum of Understanding (MoU), signed between both ACCA and HCP will result in them working together to develop the accounting profession in Sri Lanka. The MoU was formalized at a signing ceremony, with the Head of ACCA Sri Lanka Nilusha Ranasinghe and the CEO of HCP Chaaminda Kumarasiri.

As a result of this MoU, many finance professionals in Sri Lanka will benefit from this new agreement and be able to eligible to obtain an international professional qualification and membership that is recognized in 180 countries. They will also be able to develop their soft skills and other non-technical competencies to become a fully-fledged finance professional who can play a wider role in their organizations. .
Ranasinghe said, "ACCA is delighted to have signed this important partnership agreement with HCP. Our main aim here is that by working together, we can ensure that there is a sustainable pipeline of qualified accountants in Sri Lanka who will support and contribute positively to the businesses in the country."

Chaaminda Kumarasiri, CEO of HCP, who is also a Fellow of ACCA said, "This Memorandum of Understanding is just the starting point of HCP's effort in Sri Lanka to furthering the profession in order to reach a competitiveness level that is parallel to the demands and corporate dynamisms of international standards. At HCP we acknowledge and value ACCA's experience, prestige and high professional dynamism and we believe that this cooperation will bear fruit for the profession in our country."

Under this MoU, ACCA and HCP have identified several areas of cooperation that is based on the recognition of the value and the need for the advancement of the accountancy profession in Sri Lanka. It will entail in sharing information and to collaborate on promotional activities to publicize the qualifications and its benefits to students and members in Sri Lanka.

HCP will also design training and development programs and take part in Continuing Professional Development (CPD) activities in line with the overall student and member development framework of ACCA. Further, HCP will offer its training and development solutions at special rates to the students, members and training partners of ACCA as well as providing professional development training.
" ACCA will continue our quest to working in fostering similar partnerships to develop the accountancy profession in the country as this is a key part of ACCA's ethos of being accessible to everyone who has the ability and skills to be complete finance professionals", concluded Ranasinghe.