---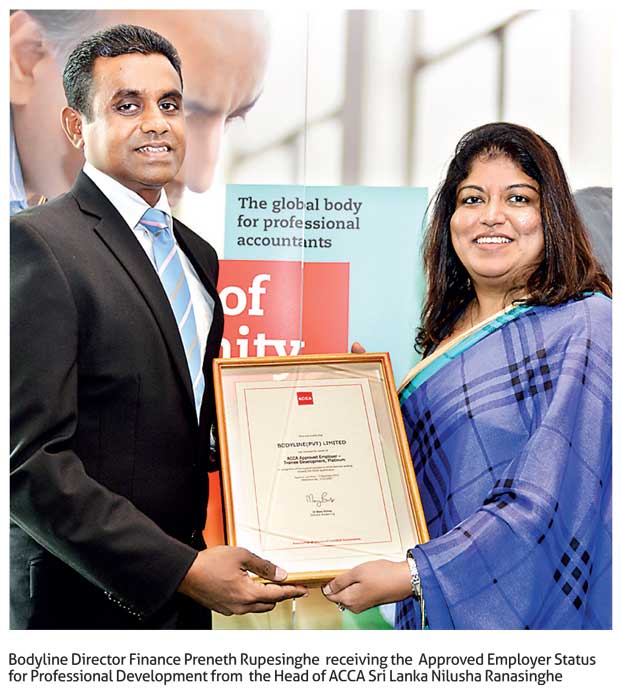 The Association of Chartered Certified Accountants (ACCA) recently awarded Bodyline ( Pvt) Limited, with the Approved Employer status for Professional Development.
Bodyline now joins an elite group of employers to gain access to specialized services offered by ACCA. These include services to support the recruitment, development and retention of finance professionals and access to ACCA's global conference series and research programmes on managing human capital among other training products and services.
The Head of ACCA Sri Lanka Nilusha Ranasinghe presented the Approved Employer certificate to Bodyline Director Finance Preneth Rupesinghe. Also present from ACCA was Business Development Manager Employers Ruchera Jayawardena Peries.
Bodyline, a joint venture among MAS Holdings Sri Lanka has a product portfolio that consists of ladies foundation garments and caters for a large pool of customers such as Victoria's Secret, Triumph. Pink. And Lane Bryant Bodyline has been the recipient of many awards that include The National Productivity Award, The National Quality Award, and The National HRM Award and has been adjudged the most Outstanding Exporter in the country besides winning numerous other Exports and Customer Awards.
Preneth Rupesinghe of Bodyline stated, "Being awarded the Approved Employer (Professional Development) status, is yet another testament to our commitment for continuous excellence and we consider it as an important accolade .We greatly value ACCAs recognition of the support we provide to ACCA trainees working towards the ACCA Qualification .We are an organization that values good professional training for our staff and we are fully committed to providing the learning and support to our employees as they gain ACCA qualifications."
Nilusha Ranasinghe said, "The approved employee status has been designed to maintain and develop the knowledge and skills needed by finance professionals to succeed in both todays and tomorrow's dynamic and demanding working world. We are delighted to have Bodyline being a part of this programme and are looking forward to working with them on a number of areas for continuing professional development and to support and help the learning and development of their finance team.
The ACCA Approved Employer scheme is a 360 degree solution for recruitment, retention and development of accounting and finance professionals. It has also been designed to help employers derive maximum value from ACCA students, affiliates and members and is presented to employers who meet high standards of education and training for their staff and commit to their ongoing development.