---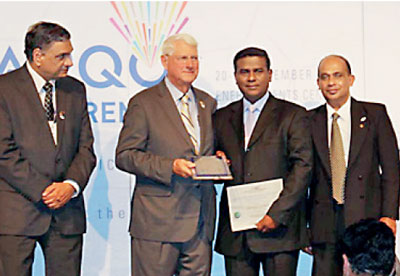 AB Securitas (Pvt.) Ltd, the leading loss prevention and secure transport service provider in Sri Lanka, was honoured with the world-class Global Performance Excellence Award (GPEA) under Service Sector (Large Scale), organised by Asia Pacific Quality Organisation (APQO) recently.
The award ceremony was held at Rotorua, New Zealand during the 22nd APQO/ International Conference on quality.

Thirty organisations from 10 Asian and Pacific Rim Countries were recognized as exemplary companies of world-class quality performance. They have achieved the GPEA modelled after the US Malcolm Baldrige Performance Excellence Award or European Foundation for Quality Management Award.

The GPEA is the only formal international recognition of performance/business excellence. Since 2000, 201 organisations have achieved the three rigorous categories of this award. The GPEA is a strategic enabling tool for global performance excellence. It helps to strengthen the strategies and performance of organisations to succeed in the fast evolving global market place. The GPEA process promotes awareness in performance excellence as an increasingly important tool in competitiveness towards global business success and sustainability.
The APQO was founded and organised by National o Quality Organisations in Asian and Pacific Rim countries including the American Society for Quality and was incorporated in the Philippines in 1985.
AB Securitas (Pvt.) Ltd is the first-ever lost prevention service provider in the country to be bestowed with this prestigious award.

AB Securitas Director Wing Commander (Rtd.) Pradeep Kannangara stated, "It's a privilege to receive this prestigious award out of many companies from ten different countries in the Asia Pacific region. The GPEA will further strengthen our commitment towards a high-quality service for our customers and other stakeholders and clearly differentiate AB Securitas from other loss prevention service providers in the market. I would like to dedicate this award to my excellent team that is the great force behind this success."