---
South Asian Technologies (Pvt) Ltd. (SAT) announced its appointment as the National Value Added Distributor for A10 Networks, the next-gen application networking and security leader- in Sri Lanka.
The partnership strengthens A10 Networks' reach into the enterprise IT market in Sri Lanka and facilitates sustained engagement with new partners in larger cities as well as extending its reach in high growth Tier - 2 regions.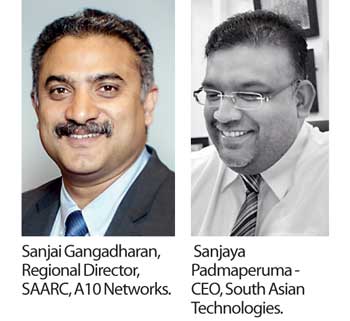 "This partnership with A10 Networks will help us and our partners diversify our portfolio, and help address the security and application delivery needs of the enterprise businesses in the country," said Sanjaya Padmaperuma - CEO, South Asian Technologies.
SAT focuses on distribution of ICT products for leading security, network and storage providers in Sri Lanka. It engages in a multi-layered software distribution and has holistically expanded its role from logistics of distribution to training, market development, product positioning, taking the product gospel direct to the customer and partner network building initiatives. SAT has operations in Sri Lanka, Bangladesh and Maldives and has a partner network of over 150 companies. "According to industry reports, the IT market in Sri Lanka is expected to grow at a CAGR of 15.4 percent with the market expected to increase to a value of Rs. 188.8 billion in 2019. Sri Lanka as an IT market is poised to outperform other APAC regions due factors like to strong economic growth and the Government's focus on digitalisation," said Sanjai Gangadharan, Regional Director, SAARC, A10 Networks.
"We are at the right inflection point as the Sri Lankan IT market is going through significant growth changes. The explosion of mobile devices, adoption of cloud and SaaS will drive the need for a new breed of converged network security capabilities that provides high level of visibility and control, without compromising on performance and scalability," he added. A10 provides a range of high-performance application networking solutions for customers in the service provider, financial services and import-export verticals, and ensures that their data center applications and networks remain highly available, accelerated and secure. With this partnership with SAT, A10 Networks aims to diversify and tap the growing enterprise IT market in Sri Lanka.