---
Eyes foothold in Europe
Says keen to list shares abroad
Enjoys a market value of US $ 30-40mn
By Shabiya Ali Ahlam
Homegrown mid-sized technology service player, 99X yesterday said it is gearing up for a new wave of growth, one that would move beyond the borders of Sri Lanka, following the "complete" digital transformation of the entity.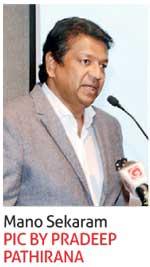 Embracing a new corporate identity, as it embarks on a fast-paced growth journey, 99X announced plans to increase its contribution to the higher end of the value chain while also placing the local IT sector at a strategic position on the global stage. The privately-held entity, which was previously branded 99X Technologies, has grown over the last 15 years to enjoy a market value of about US $ 30-40 million and is confident the number would only expand in the coming years.

"Entering this new chapter in our story at 99X, we look forward to further increasing our global footprint though the creation of impactful digital products together with our clients," said 99X Co-Founder/Chief Executive Officer Mano Sekaram, at a presser held in Colombo, last evening.
Sekaram shared that plans are afoot to expand the organically grown company by setting up an extension of the venture in Europe—the market 99X specialises in—or by acquiring businesses in that region, whichever comes first.

When questioned on the likelihood of going public, he expressed that while there is keen interest to list locally, if the conditions are met, 99X would not hesitate to list abroad.

Sekaram added that 99X would only list on the Colombo Stock Exchange (CSE) if a dollar board is made available.

In 2018, the CSE announced its decision to launch a dollar-denominated board, to diversify investment options for foreign investors. However, efforts in that regard are yet to materialise. As the company unveiled its new identity to "stay relevant" in the fast-evolving global IT space, 99X Chief Marketing and Corporate Affairs Officer Chrishan de Mel said that setting the entity apart from the rest is the creative angle of thinking and the unparalleled level of collaboration with clients.

"The essence of the new brand identity is derived from binary code where 'ones and zeros' are cleverly arranged to represent our new identity," he explained.

Established in 2005, 99X has launched over 150 products into global markets across diverse sectors, with over 350 employees innovating daily. With 80 percent recurrent revenue from the existing product teams, 99X has a 36 percent revenue growth (five-year compound annual growth rate). It also has a five-year client engagement duration and 25 active engagements building global products.