---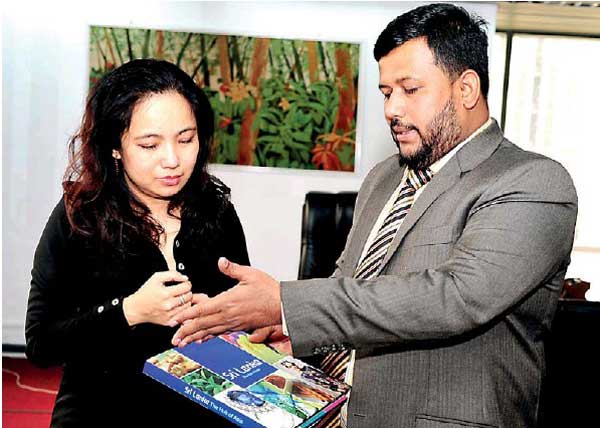 FROM RIGHT: INDUSTRY AND COMMERCE MINISTER RISHAD BATHIUDEEN DISPLAYING SRI LANKA EXPORT CATALOGUE PRODUCED BY THE EDB TO VIETNAM'S NEW AMBASSADRESS TO SRI LANKA PHAN KIEU THU
Stepping up its trade cooperation with Sri Lanka to new levels, Vietnam had said that it was vying for a groundbreaking free trade agreement (FTA) with Sri Lanka, a media statement by Sri Lanka's Industry and Commerce Ministry said.
"There is huge unrealised trade potential between both countries that we need to explore. Trade need not be mostly exchanging of rice and tea between both countries. Therefore, while in Colombo, I will take up the task of promoting an FTA with Sri Lanka," new Vietnam Ambassadress to Sri Lanka Phan Kieu Thu said.

She also called for synergies between the apparel sectors of the two countries. Last year, Vietnam, as the fifth largest apparel exporter in the world, exported US $ 20 billion worth of apparels.Sri Lanka's apparel export revenues in the first nine months of this year totalled US $ 4.8 billion and the industry plans for US $ 8.5 billion export revenues by 2020.

Ambassadress Thu said this during her maiden courtesy call on Industry and Commerce Minister Rishad Bathiudeen at t he Export Development Board (EDB), recently."Former Vietnam Ambassador i n Colombo Ton Sinh Thanh has done a good j ob i n Colombo promoting bilateral trade till the last minute of his departure. He was also instrumental in promoting bilateral investments," Minister Bathiudeen said, welcoming Ambassadress Thu."I too agree an FTA would bring our bilateral trade to new levels. During my tour to Vietnam in August, I was officially informed that the nine strong FTAs Vietnam has are the reason for Vietnam's great export success seen today," Minister added.

Sri Lanka's Commerce Department recently appointed its first-ever trader officer to Vietnam and the officer is expected to start work from January 1, 2015.
"Next year, we are also planning to send a strong Lankan business B2B delegation to Vietnam, based on Vietnamese invitation to do so during my August visit," Minister Bathiudeen said.At present, Vietnam ranks as the 40th export destination and the 23rd supplier of Sri Lanka, accounting for 0.43 percent of total exports and 1.06 percent of total imports, respectively.Total trade between both countries which stood at US $ 119.5 million in 2012 increased to US $ 224.4 million in 2013 registering a remarkable growth of 88 percent.

Since 2011, Petrovietnam Oil Corporation (PVOil) has supplied to its Sri Lankan partner with petroleum products. In the field of industry, the two countries have signed a number of important documents, creating a legal framework for further enhanced cooperation activities.
Those include the MoU on Machinery Manufacturing Cooperation between the Industry and Trade Ministry of Vietnam and Industry and Commerce Ministry of Sri Lanka, MoU on Oil and Gas Cooperation between the Industry and Trade Ministry of Viet Nam and Industry Ministry and Prime Minister's Secretary Office of Sri Lanka.Currently, Sri Lanka has FTAs with India and Pakistan and is in discussions for FTAs with China and Bangladesh.