---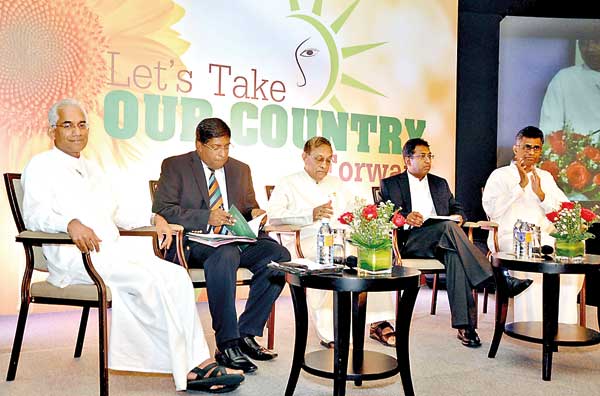 ---


By Chandeepa Wettasinghe
The United National Party (UNP) has recognized its mistakes in managing the economy in 2001, and the lessons learnt will be implemented in a future UNP government, said Finance Minister Ravi Karunanayake at a discussion organized by the Industry and Commerce Forum.

"We'll be giving 1 million new jobs in 5 years. This is not difficult for a party that has developed the economy at every given opportunity. We did it in '77, we did it in 1948, and we did it in 2001. We developed the country in a short period of time, but the benefits didn't trickle down to the people," he said.

During the 2001 UNP government, big businesses flourished through their close dialogues with the government which was busy conceptualizing private sector-driven liberal economic policies, while the masses were left behind.

The UNP had believed the capitalist philosophy of benefits automatically trickling down to the bottom of the pyramid, which was further reinforced by the affirmation of the notion by multilateral development agencies.

However, most of the youth, including university graduates—who are still being mostly taught outdated curricula—were left unemployed.

"So we've taken that into our decision and rectified ourselves, and placed the people before the country. That's how we've come up to the 2015 election, and you can see now that a people-led country development is what we're going for," Karunanayake elaborated.

The UNP's new national policy revolves around a competitive, knowledge-based, social market economy similar to the economic policies of Germany.
Therefore, the party has promised a radical shift in budgetary expenditure from large public infrastructure projects to soft infrastructure, such as education and health as well as creating economic zones.

"We feel that these are the ways economically devastated, war torn countries like Germany, Japan, Georgia, Singapore and Qatar have come through. Rapid development has taken place, and today, where are those countries? That's what we need to emulate," Karunanayake added.

Investing on the youth and reducing the disparity of income through social market mechanisms would also ensure that there won't be youth uprisings like those seen in Sri Lanka decades ago.

"We have a 5 point plant. The biggest is the building of the economy. We see that one of the biggest attractions we have got is the younger generation having confidence in the UNP. This has been further strengthened by the United National Front which has galvanized the younger generations, helping us to go forward with many progressive steps to build a better tomorrow," Karunanayake said.

---
---
Add comment

Comments will be edited (grammar, spelling and slang) and authorized at the discretion of Daily Mirror online. The website also has the right not to publish selected comments.

---