---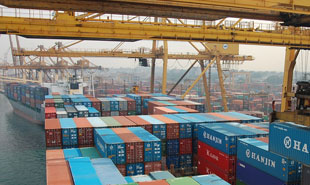 Highlighting a major inaccuracy i n t he national data compiled by the Census and Statistics Department (DCS), a leading economist in the country said Sri Lanka's published per capita income (PCI) numbers are misleading and in fact the incomes have declined annually in 'real terms' since 2005.
Dr. W.A. Wijewardena noted that DCS has used an overvalued exchange rate in order to calculate a higher nominal PCI (in rupee terms) which claimed to have doubled during 2007-2013, and warned of potential repercussions in doing so."If you look at the exchange rate calculated by Central Bank ( CB) before 2007, variation was negligible and CB had been a very conservative compiler of GDP. Then, PCI was lower than the figure calculated using the realistic exchange rate.

But after 2008, the gap has become so huge; it has increased and misled all of us. So, this doubling of PCI using an overvalued exchange rate is not something we have to do because we have to be careful about the caveat before us," he said, addressing Sri Lanka Economic Association (SLEA) annual sessions during the weekend.Before 2007, national data compilation and exchange rate calculation was carried out by the CB before it was handed over to the DCS.
During 2005-2013, Sri Lankan rupee in real term has appreciated by as much as 31.2 percent, which ideally should have depreciated by the same amount.
Due to this anomaly, published nominal PCI for 2013, which was US $ 3, 280 had been over-estimated by US $ 69. The CB and policy makers created much hype on doubling PCI during the last 6-years, and have made linear projections for the next 20 years doubling the PCI every six years to US $ 4,000 in 2015, US $ 7,500 in 2020 and US $ 12,000 in 2035.

However, Dr. Wijewardena who is also an ex-Central Banker said, neither the well-being of the people nor equitable growth could be measured via nominal PCI and stressed, "it is not the nominal GDP which we need to double, we have to double the real GDP". According to Dr. Wijewardena, Sri Lanka's real PCI during 2005-2013 has gone up only by 29.1 percent to US $ 1,208 but the PCI has in fact declined when exchange rate appreciation is taken off, demonstrating that every year Lankans have been unable to consume the same basket of goods which they consumed the previous year (See table).
Dr. Wijewardena's analysis into the national numbers explains the anomaly in Sri Lanka's published PCI with published inflation and exchange rate.
"That is why countries can (manipulate) both exchange rate and the inflation rate and show a higher PCI in US dollar terms which might mislead not only policy makers but also politicians and other parties,"

"So you have to be very careful about the caveat before us," he reiterated. While expressing that there is nothing wrong in long term projections with high growth targets for a country which had an average economic growth of 4.6 percent postindependence, he reminded that "world is not a linear thing, it's a non-linear thing. At times an unexpected thing could happen and when unexpected things happen these (projections) might all go haywire and we have seen that".
Dr. Wijewardena gave examples of former Soviet Union in 1989 and Myanmar in 2004 which overvalued their currencies to show higher PCI but became poorer overnight when the exchange rate plunged.