---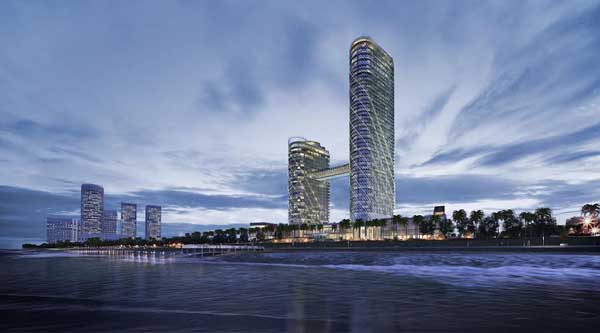 The ground breaking ceremony for the iconic luxury hotel and residences, ITC Colombo One, took place today and was graced by Mr. Basil Rajapaksa, Minister for Economic Development, H.E. Mr. Y K Sinha, High Commissioner of India to Sri Lanka and Mr. Y C Deveshwar, Chairman, ITC Limited, one of India's largest multi-business enterprises. Several dignitaries lent their presence to this auspicious occasion including Hon. Mr. Lakshman Yapa Abeywardena, Minister for Investment Promotion, His Worship the Mayor, Mr. A.J.M. Muzammil, Mr. Ajith Nivard Cabraal, Governer, Central Bank of Sri Lanka, and Lieutenant General R M Daya Ratnayake, Army Commander.
Situated in the picturesque coastline overlooking the historic Galle Face Green, ITC Colombo One is likely to offer about 350 rooms in the first phase, more than 130 luxury residences, world-class banqueting and cuisine experiences for which ITC Hotels is globally renowned, as well as retail and full service office space. Located between the oceanfront and Beira Lake, the hotel will offer panoramic views of the Indian Ocean as well as the city of Colombo.

ITC Hotels is India's largest luxury hotel chain and is a part of ITC Limited, a leading diversified enterprise in India. With a market cap of over $ 45 billion, ITC's businesses in India span Fast Moving Consumer Goods, Hotels, Paperboards, Paper and Packaging, Agri Business and Information Technology. ITC Hotels is also internationally acclaimed for its cuisine excellence with globally awarded brands such as Bukhara, Dum Pukht and Dakshin and also for its indigenous spa brand Kaya Kalp.
ITC Hotels has set global benchmarks in its services, integrating personalisation with state-of-the-art technology to deliver planet positive luxury experiences to its guests.Commenting on ITC's investment in Sri Lanka, Chairman, ITC, Mr. Y C Deveshwar said, "India and Sri Lanka have shared a common heritage in the sub-continent and have generations of rich socio-cultural ties. ITC Colombo One will build on this heritage and strengthen our relations even further. ITC dedicates this project to Sri Lanka and to its future progress and prosperity. I am sure that this landmark hotel will add a jewel to the crown of Sri Lanka's hospitality sector."
ITC Colombo One is inspired by the rich cultural ethos of Sri Lanka, its history and architecture. Uniquely differentiated with superior environmental design, the hotel is slated to achieve a LEED Platinum rating. This echoes ITC's Triple Bottomline approach to business which has inspired ITC Hotels' credo of 'Responsible Luxury', an endeavour which is manifest in the highest rating accorded to green buildings in the world - LEED® platinum, for all its luxury hotels – making it the 'greenest luxury hotel chain in the world.
About ITC Hotels
One of India's largest hotel chains, with a collection of more than 100 hotels in over 70 destinations, ITC's hotels have redefined the fine art of hospitality. ITC operates its hotels under four distinct brands; 'ITC Hotel' at the Luxury end, 'WelcomHotel' in the 5 star segment, Fortune in the mid-market to upscale segment and 'WelcomHeritage in the heritage leisure segment. An archetype of the culture and ethos of the region it is located in, ITC's luxury hotels offer unique indigenous experiences, internationally acclaimed cuisine and spas, with globally benchmarked standards in accommodation, environment and guest safety.Inspired by ITC's triple bottomline philosophy of creating economic, environmental and social capital, its hotels business is committed to delivering luxury experiences with sustainable practices embedded in it, in keeping with its guiding premise of 'Responsible Luxury'. With the maximum number of LEED Platinum certified hotels in the world, ITC Hotels is the 'Greenest Luxury Hotel Chain in the World'.

With many 'firsts' in the hospitality sector in India, ITC Hotels has been a trailblazer. These 'firsts' include branded accommodation and room categorization based on market segmentation, international franchise agreement on a chain wide basis, the country's first frequent guest loyalty programme, introduction of branded cuisine restaurants, establishment of airport lounges on a nationwide basis, concept hotels with architecture unique to the region, concept of 'hotel within a hotel', the first chain to be accredited with British Safety Council Five star rating, pioneering laboratories within hotels – 'WelcomLab' with microbiologists to ensure the highest standards of hygiene, introduction of the 'EVA' rooms in the country - a special wing dedicated to the single lady traveler, the successful blending of luxury with sustainable practices to deliver on its core philosophy of 'Responsible Luxury' and the highest global green accreditation - *LEED® Platinum ratings for ITC luxury hotels.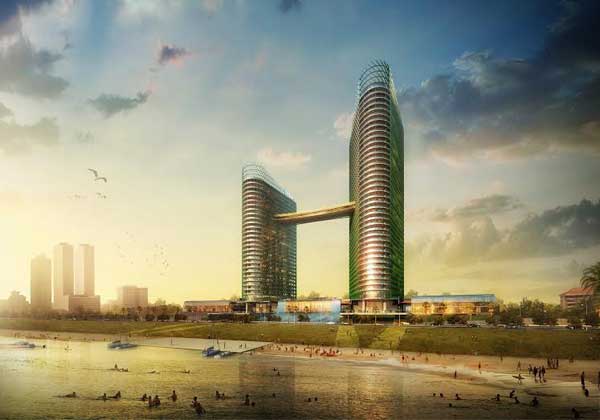 About ITC Limited
ITC is one of India's foremost private sector companies and a diversified conglomerate with interests in Fast Moving Consumer Goods, Hotels, Paperboards and Packaging, Agri Business and Information Technology. With a market capitalisation of around US$ 45 billion and a turnover of over US$ 7 billion, ITC has been ranked amongst the top 10 'sustainable value creators' in the consumer goods segment globally by the Boston Consulting Group (BCG). It is the only company in the world to be carbon positive, water positive and solid waste recycling positive, with its businesses supporting around 6 million sustainable livelihoods. ITC Chairman Mr. Y C Deveshwar was ranked the 7th Best Performing CEO in the world by the Harvard Business Review. Recently, ITC was ranked as India's most admired company by Fortune India magazine in association with Hay Group.