---
By Shabiya Ali Ahlam
Despite the hue and cry made by the public and a certain section of the business community on Sri Lanka's trade deficit with its neighbouring giant, a top economist asserted such arguments do not show the real picture of the situation at hand and said one should not pay much attention to it.
While acknowledging the concern arises due to India being Sri Lanka's largest trading partner, Institute of Policy Studies (IPS) Chairman Dr. Razeen Sally said, "The argument that the trade deficit is bad is obviously economically-illiterate. The trade deficit with India doesn't really tell us anything about the state of Indo-Lanka relations. Taking the situation in isolation, it is not a big deal as the public perception has it," Institute of Policy Studies (IPS) Chairman Dr.Razeen Sally told a forum in Colombo, this week, while acknowledging the complexities that may arise due to India being Sri Lanka's trading partner.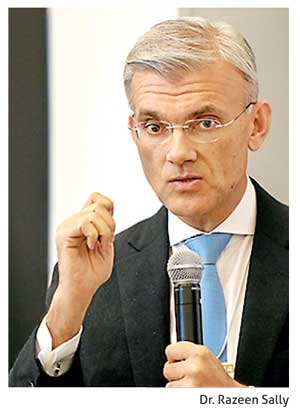 He pointed out that it cannot be said with certainty that the deficit arises due to the unfair trade practices on the side of India or Sri Lanka.

Noting that trade is related to domestic intelligence, it was pointed out that the fundamental obstacles faced by Sri Lankan exports have much less to do with the barriers that other countries put in Sri Lanka's way but instead it has much more to do with the domestic obstacles in doing business.
"In Sri Lanka, it is about the competitiveness agenda and has to do with our export potential to India as well. We must emphasize the mutual gain from the bilateral trade relation. As the Chinese puts it— a 'win- wsin' situation," said Dr.Sally.

"We need to improve our exports to India, but at the same time, imports from India are a good thing for Sri Lankan consumers," he added.
It was also pointed out that the strategy to be employed at this point of time is to have a less defensive position from the side of Sri Lanka in terms of trade and executing the reform agenda, which includes trade liberalisation.

"So far we have a trade policy which is being held hostage in the trade negotiations with India, China and Singapore and that drives everything else. We need to have a domestic reform agenda on which we should build our trade negotiations," he said.

Dr. Sally also opined that Sri Lanka appointing a new Finance Minister is "good news" and his keenness on trade liberalization is well pronounced. The tabling of a "different" budget is said to give hopes in kick-starting the much needed reform agenda.