---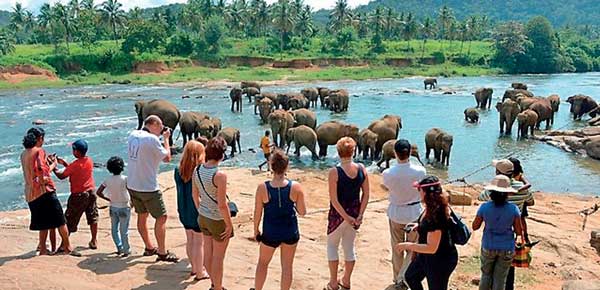 The tourist arrivals to Sri Lanka grew a healthy 13.7 percent year-on-year (YoY) to 150,419 in October, the data released by the state tourism office showed.

The tourist arrivals in the first 10 months of the year now stand at 1.66 million, appearing to be short of the 2.2 million arrivals target set by the government for the year. Growth in tourism for the month picked up with arrivals resuming from India, after remaining flat in September.
Arrivals from India rose 19.3 percent YoY to 36,471 at the start of a holiday season for Indians in late October.
With the exception of Bangladesh, arrivals from the rest of South Asia declined, but the growth from India pushed the total South Asian arrivals up to 46,579, up 14.4 percent YoY. After observing a slight slowdown in arrivals during the preceding months, arrivals from Sri Lanka's second largest tourism market, China increased 19.8 percent YoY, bringing in 20,566 tourists.
Tourist arrivals from Japan increased 2.7 percent YoY to 2,845.
The East Asian market as a whole expanded 14.8 percent YoY, with 31,597 tourists.
Arrivals from Western Europe, Sri Lanka's largest source market as a region, increased 16.4 percent YoY to 42,790, with German arrivals increasing 26.5 percent YoY to 12,246.
British arrivals increased 10 percent YoY to 10,964, while arrivals from France increased 10.1 percent YoY to 5,849, mainly due to the annual conference of the French travel agents' association held in Sri Lanka, which brought in over 300 French professionals.
Arrivals from Eastern Europe increased 10.1 percent YoY to 12,109. The Russian market recorded its second instance of positive growth this year after the 2.5 percent YoY growth this February. Russian arrivals for October increased 3.3 percent YoY to 4,726.

The Ukrainian market grew 9.1 percent YoY to 2,782 tourists as well.
Arrivals from North America grew 9.6 percent YoY to 5,777, with the US market growing at 14.6 percent YoY with 3,432, while the Canadian market grew 34 percent YoY to 2,345 tourists.
Arrivals from the Middle East (ME) increased only 4.8 percent YoY, while arrivals from Israel rose 322.7 percent YoY to 1,585.
Australasian arrivals increased 9 percent YoY to 4,714, with nearly 90 percent of the total coming from Australia.

For the first 10 months of the year, 1.66 million tourists have arrived in the country, signifying a 14.6 percent YoY growth.
If the government's targets are to be reached, 541,176 tourists have to arrive in Sri Lanka in the coming two months with a YoY growth rate of 54.50 percent.
For the year so far, South Asian arrivals have grown 12.7 percent YoY to 407,644 tourists while Indian arrivals have increased 14.8 percent YoY to 288,636 tourists.
Arrivals from East Asia have increased 18.2 percent YoY to 357,230, with Chinese arrivals increasing 28.3 percent YoY to 233,669.
The Western European market has expanded 17.4 percent YoY to 528,413 tourists with the British arrivals increasing 16.7 percent YoY to 154,376 tourists, German arrivals increasing 16.6 percent YoY to 110,109 tourists and arrivals from France increasing 12.7 percent YoY to 82,724 tourists.