---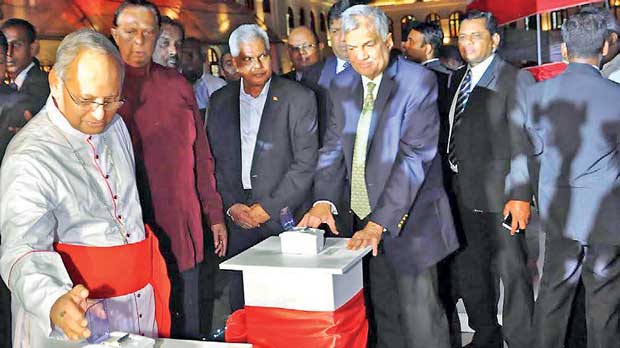 Prime Minister Ranil Wickremesinghe and Archbishop of Colombo Malcolm Cardinal Ranjith declare Tourism Fest 2016 open for the public at the Independence Arcade Pic by Waruna Wanniarachchi
By Supun Dias
The annual Tourism Fest 2016, organised by the Tourism Development and Christian Religious Affairs Ministry, was declared open by Prime Minister Ranil Wickremesinghe at the Independence Arcade, this Tuesday. Attracting a substantial crowd, both local and foreign, this year's edition of the festival holds the promise of entertainment and fun that will undoubtedly intensify the festive feeling that comes round this time of the year.
The festival will last till December 23 at the popular precinct.
Speaking at the event, Wickremesinghe said his government treats all the religions and races in the same manner, which is important to take the country forward.
"We have now come to a position that we are able to respect the religion of others and treat everyone the same. This is something we have won through suffering. Diversity has helped us to examine our religions more closely than before," he added.
Tourism Development Minister John Amaratunga stated that the tourists have complained about a lack of entertainment after sunset, the target therefore of this event is to highlight Colombo as a city that comes alive during the festive season.
The 2016 festival will feature local handicrafts, music and cultural shows, exotic cuisine from five-star establishments along with a myriad of other exciting highlights in addition to merrymaking, Christmas carolling and firework displays that will, without a doubt, add to the grandeur of the event.
With the objective of attracting tourists to the island nation, Amaratunga further stated that December is the peak tourist season that traditionally records the highest number of arrivals and Sri Lanka is likely to, for the first time in its history, record over two million tourists this year.