---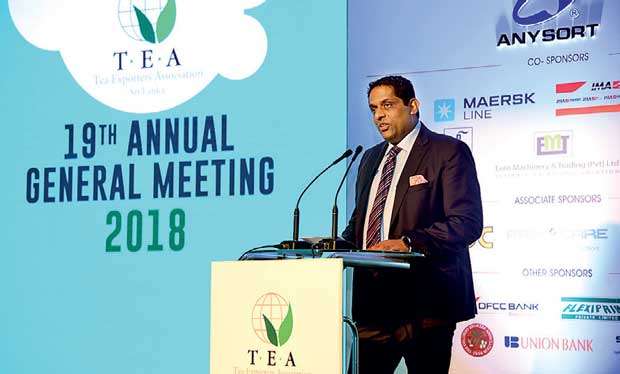 Nathan Sivagananathan
Pic by Samantha Perera
Nathan Sivagananathan of MAS suggests tea industry set up tea trade zone within a free trade zone outside Sri Lanka
Tea industry stakeholders remain divided over importing teas of other origins for blending purposes
Sivagananathan stresses need for tea industry to increase R&D expenditure
By Nishel Fernando
Nathan Sivagananathan who drives strategy, growth and innovation at local apparel major MAS Holdings, proposes Sri Lankan tea industry to set up a tea trade zone or a bonded hub based within a free trade zone outside Sri Lanka to blend Ceylon Tea with teas of other origins to compete with global pricing and high value additions.

"Trade zones outside Sri Lanka are helping the apparel industry to be more global. The Sri Lankan tea industry can benefit from having a tea trade zone or a bonded hub based within a free trade zone in the Middle East or Africa, where global tea can be mixed and exported to compete with global pricing," Sivagananathan said delivering the keynote speech at the 19th Annual General Meeting (AGM) of Tea Exporters Association (TEA) last Friday.

MAS Holdings Chief Growth Officer and Director pointed out that having trade zones outside Sri Lanka is helping the apparel industry to be more global.
As the main stakeholders of Ceylon tea industry remain divided over blending of tea for re-export from Sri Lanka, Sivagananathan suggested that setting up of tea trade zones outside the country could be a good alternative to reach a consensus.

The Regional Plantation Companies (RPCs) and smallholders oppose liberalisation of tea imports for blending, fearing it would adversely impact local tea prices at auctions.

However, Sivagananathan pointed out that 80 percent of Sri Lanka's tea exports are in bulk format, with almost 40 percent getting value added at import destinations and tea hubs in the Middle East.

"Eighty percent of our tea is exported in bulk and probably blended elsewhere, so why not start doing this ourselves?" he questioned.

Sivagananathan stressed that Sri Lanka should change the mindset that all investment should be within Sri Lanka to bring in revenue.

"Although based offshore, this still brings in revenue to Sri Lanka through a different supply chain. We need to move on from the belief that all investment should be within Sri Lanka to bring in revenue. We must shift to a mindset that we can invest in other countries if this will have a more favourable impact on the industry as a whole."

He noted that Ceylon Tea faces the challenge of maintaining the reputation as one of the world's premier tea producers.

"World tea consumption has grown at an average of 4.5 percent every year in the last decade, driven by rapidly increasing demand from China, India, and other emerging economies. However, tea production in Sri Lanka is stagnant. Production in 2017 was at the same level it was 15 years ago, which was around 310
million kgs."

He emphasised that Sri Lanka has failed to capitalise on the rising global demand for tea, a US $70 billion industry being driven by growth in the value-added segment while noting that Sri Lanka's share in the global tea supply had dropped from 20 percent to 6 percent over the past 50 years.

He also urged the tea industry to research on consumers in their main markets, tracking their likes and dislikes, income levels, and lifestyle changes, to adapt tea to suit customer needs as MAS has been doing in the apparel industry.

Speaking on the lack of R&D activities, Sivagananathan pointed out that the Sri Lanka Institute of Nanotechnology (SLINTEC) is a great example for a public-private institution doing excellent research and churning out patents, which can be a good model for more efficient, viable, commercialised research in the tea industry.
"The tea industry needs to invest in digitising payment and collection methods, soil testing, geo mapping, and automated book keeping.

Even a drastic agricultural revolution like aquaponics could be considered an opportunity, not as something to fear. Have we thought about whether tea could be grown in a different way? It is essential to develop unique systems of tea planting, and not rely on tea planting systems set in place during the British rule."
Sivagananathan as the Chief Growth Officer of MAS is charged with generating new businesses and to drive MAS to achive the US$ 2 billion goal by 2020.