---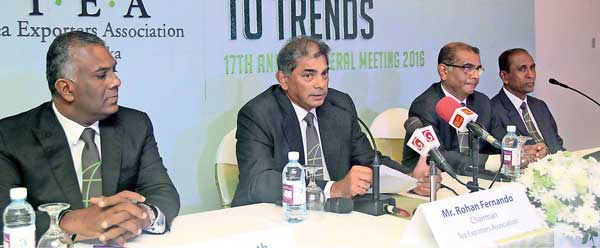 From left: Tea Exporters Association Vice Chairman Sanjaya Herath, past Chairman Rohan Fernando, incoming Chairman Jayantha Karunarathne and Secretary General Ranjith Abeykoon
Pic by Pradeep Dilrukshana
By Zahara Zuhair
The Tea Export Association (TEA) last week requested the government to introduce a proper economic model for tea exports, and proposed to liberalize tea imports in order to strengthen export volumes.

"What worries us is before 1975, estates were controlled by the agency houses and it was a very well run economic model. The agency houses paid taxes, other charges and made profits. Since 1975 it has reversed, now it has become a national burden and we have to pay taxes to keep some of these operations going."
"So it is the time the government has to take a collective decision to convert this industry back into an economic model that worked before," Tea Exporters Association Past Chairman Rohan Fernando said at the TEA's 17th Annual General Meeting (AGM) for the years 2016/17 held in Colombo, last week.

The tea industry expects to achieve an estimated revenue of US $ 1.3 billion by the end of this year with an estimated export volume of 280 million kilos, which is a reduction compared to previous years. The industry is going through a period of turmoil at the moment, due to several issues such as weather patterns, tepid demand, artificial higher prices and worker wage related issues.
With regard to liberalizing tea imports, the association said that they have made several proposals during the budget discussion to bring in liberal trade policies.
"If you control the trade and if it's under government intervention it can only grow to a certain extent, beyond that it can't grow. If the raw material is controlled by restrictions the industry cannot grow beyond that point. These are some of the concerns we have expressed, and we believe the government will be giving serious consideration for implementation of proposals we have given," Fernando said.

Commenting further, he said, "A lot of people want to know why we want to import tea. It's not that we want to import tea for fun. There is a demand outside, the global demand for teas and due to that the exports taking place from tea producing countries and tea hubs across the globe is about 1.8 billion kilos. We produce about 350 million kilos at the most. And when the demand is there, when we cannot supply locally, then prices go up, that is the artificial price structure, that is not in relation to global pricing."
Therefore, he said that there is a mismatch in the way of thinking and the current economic model in place. "So that is why we believe that Ceylon tea, whilst occupying the niche shelves in the global market, should also invade the middle and bottom shelves where the mass market enjoys the cup of tea," he said.
Adding to that, the newly elected TEA Chairman Jayantha Karunarathne said that reason some parties to oppose importing tea is because they think importation of tea would bring down the prices of the local teas. And the second argument is that, they claim that, by importing, the image of Ceylon tea would be diluted.
"What we believe is that we have a product, which is 350 million kilos, which is six percent of the total world tea crop. So we want to see if we could make it bigger by importing, so we have been pushing the government to allow exporters or whoever wants to bring tea here, process it and export it. We believe through importation we can get more revenue," he said.
Meanwhile, with regard to plantation sector worker wages, Fernando said that any wage increase is sustainable if it's linked to productivity.
"We will have to wait and see whether the productivity aspect we have brought in will work well. We want the labour to be paid well, but it should be in relation to the work with performance. If they pluck more leaves they will get more money," he said.

"But if you look at the wage structure in tea plantation, Sri Lanka is the highest in terms of labour percentage to cost of production. If you take a kilo of tea and if it's Rs.100, Rs.70 will be labour cost. In rest of the world labour constitutes only Rs.23," he added.
With a challenging target of increasing tea exports to US $ 5 billion by 2020, TEA expects the support from the Sri Lanka Tea Board and the government to offer incentives and facilities.
Automation of tea auctioning

At the AGM, it was noted that negotiations are underway to have an electronic system in order to speed up tea auctioning and to obtain accurate data.

"We informed the ministry about this. At present it takes two days. But if the electronic method is there it can be done in half an hour. If it works well we can direct it to other sectors as well."
"At the moment what we have is the manual conversation. Colombo auctions sell about 12500 lots of tea. It takes about 2-3 days in three rooms. It's a long process, and we need to cut down the time taken of selling of teas," TEA officials stressed.
Global tea promotion campaign in February
Meanwhile, the global tea promotion campaign of the tea promotion fund, collected from the country's tea exporters since 2011 is expected to kick start in February 2017.
"We believe we would see the first series of global advertisements being aired February next year at the time of the Russian exhibition that is to be launched," Fernando said.
However, Fernando noted that there is misinformation with regard to this fund.
"It is a private equity fund.
There is misinformation saying it's an industry fund. Contributions are made by tea exporters. Every time we export tea, we set aside a cheque from our cash flows to the fund for promotional and marketing activities."
"Earlier, it was gazetted to be controlled by the private sector with certain amount of inputs coming from the government. But today it's a totally government controlled fund," he said.
The cause of delay for the campaign to kick start as noted was the change of governments, and the long procedures to get approvals.
"In 2010, the government came out with a global tea promotion campaign and the government started collecting Rs. 3.50 for each kilo of tea exported by exporters. And this fund was collected by the Tea Board. This Rs. 3.50 per Kilo over the five years, has now exceeded Rs. 5 billion," Karunarathne told Mirror Business.